EP President says Putin unlikely to be persona non grata in EU
President of the European Parliament Martin Schultz says that Russian President Vladimir Putin will unlikely be declared persona non grata in the European Union in connection with the Savchenko case.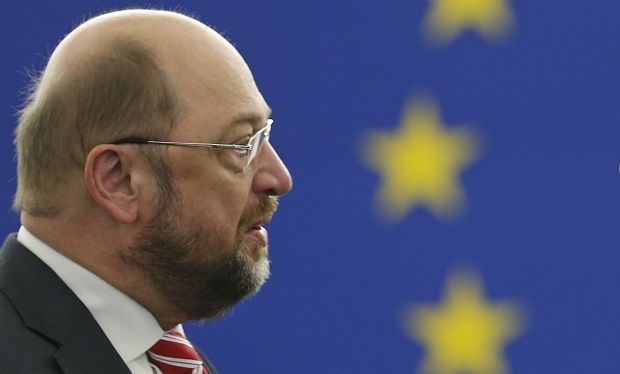 REUTERS
Schultz confirmed he received it from Ukrainian President Petro Poroshenko on Thursday; the document lists the names of the individuals who are engaged in the fabrication of a case of Ukrainian captive pilot, MP Nadia Savchenko.
"I got that list. My services were asked by me to check the list. I have to check the list together with other institutions, because I'm not the only president who got the list," he said at a press conference after a European Council meeting in Brussels on Thursday.
Answering a question whether the document could be legalized as was the case with the Magnitsky list, taking into account that the Russian president is number one on that list, Schultz said: "Not all the names on the list will be declared persona non grata. Perhaps, number one - not."
Media reports say that the Savchenko list incorporates the names of 44 Russian citizens and two Ukrainians.
UNIAN's memo. The Magnitsky list mentions some 60 Russian officials, from the interior ministry, police, and tax authorities, who Magnitsky alleged were involved in large-scale corruption by high-ranking officials. Magnitsky, who later himself was accused of aiding tax evasion, died in prison in 2009.
In December 2012, the U.S. Congress adopted the Magnitsky Act. It enables the U.S. to withhold visas and freeze financial assets of Russian officials considered to have been involved with human rights violations. The full list of names has never been released.
Savchenko was fighting with a Ukrainian volunteer battalion against Russia-backed militatns in eastern Ukraine when she was captured in June 2014. Russia claims she was acting as a spotter who called in coordinates for a mortar attack that killed two Russian journalists and several other civilians.
She has gone on a hunger strike and refused to take water after a court hearing last Thursday. Rights advocates fear she could die if she kept refusing water.
If you see a spelling error on our site, select it and press Ctrl+Enter