Poroshenko wants Normandy Four to consider OSCE police mission in Donbas
Ukrainian President Petro Poroshenko has asked Germany chairing the OSCE in 2016 to consider the deployment of an OSCE police mission in Donbas and says he wants the Normandy Four to discuss this issue in the near future.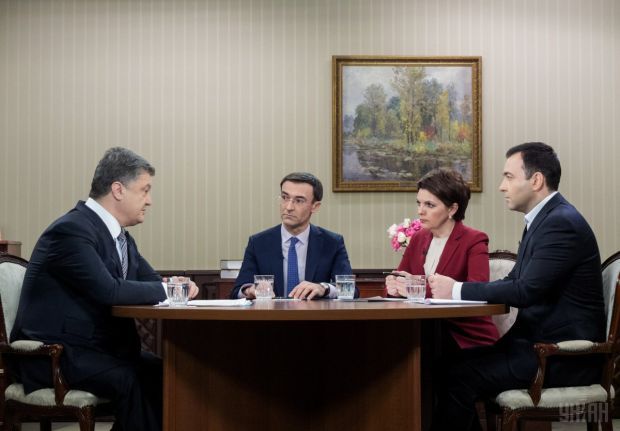 Poroshenko tells TV journalists about the need to deploy OSCE police in Donbas / Photo from UNIAN
"The OSCE posts must also be armed. As when unarmed representatives are under attack, this means inability to effectively perform their duties. I addressed [this issue to] the leadership of Germany, which chairs the OSCE now. And I plan to raise this question at talks in the Normandy format soon, as the OSCE's armed police units should guarantee preparations for elections, the voting itself, as well as the transfer of power to officials to be chosen by democratic, fair and transparent elections under the Ukrainian legislation," the president said in an interview with Ukrainian TV channels aired on Sunday.
"We have an absolutely clear plan – we will not let Russia create an image in the world as if both sides were guilty of failing the Minsk agreements," he said.
"When we speak about the need to hold elections, we should have clear conditions – there should be a ceasefire, which we don't have now. After the Ukrainian military have heroically been defending the industrial area in the town of Avdiyivka, there is constant shelling with the use of artillery systems and mortars, we observe the use of tanks, and the OSCE SMM [Special Monitoring Mission] can see this too," he said.
"The key position is the ceasefire, the permanent deployment of the OSCE SMM along the contact line, which would guarantee a ceasefire both in permanent storage sites of weapons, which have not been withdrawn and taken back to Russia, and along the uncontrolled section of the Ukrainian-Russian border," he said.
As UNIAN reported earlier, Ukraine has been in talks on the deployment of the OSCE's armed police mission in Donbas to ensure security during local elections.
If you see a spelling error on our site, select it and press Ctrl+Enter