PM Groysman, Prosecutor General Lutsenko, Rada Speaker Parubiy: media report on new deal
As part of negotiations on forming a new coalition and a future Cabinet, the Presidential Administration together with the Rada's leadership drafted the documents, aimed, if approved, at formally resolving the current power crisis, ZN.UA reports.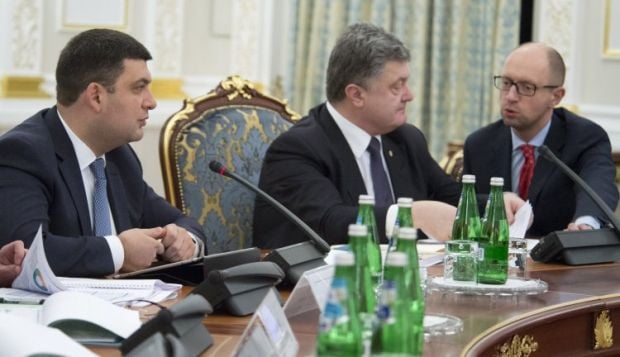 Photo from UNIAN
First, the amendments to the Law On Prosecution have been drafted, allowing for the agency to be headed by an official without legal education and relevant experience. "Changes to the law fine-tuned to Yuriy Lutsenko may also be useful for Pavlo Zhebrivskyi [head of Donetsk civil and military administration]. But it is unlikely," says a source of the publication.
Read alsoGroysman names nominees for his team in Cabinet if appointed PM
"Lutsenko insisted on a broader list of changes to the law On Prosecution, but everyone believed that it may take at least a month, and decided to stick to the minimum changes," the source said.
Secondly, the resolution is being drafted on the resignation of Volodymyr Groysman from his post of a Chairman of the Verkhovna Rada and the simultaneous election of a new speaker – Andriy Parubiy, who is currently first vice-speaker elected to parliament on a [PM Yatsenyuk's] People's Front list.
The third document, also a resolution, consists of three items:
- The abolition of the Rada resolution on the recognition of the work of Arseniy Yatsenyuk's government as unsatisfactory, adopted by Parliament on February 16. According to the source of ZN.UA, Yatsenyuk personally insists on this provision;
- The approval of Yatsenyuk's resignation from a prime minister's post. "If Arseniy Petrovich [Yatsenyuk] does not change his mind again," said the source;
- The approval of Volodymyr Groysman for the post of a prime minister. According to the Constitution, he is to submit for Parliament's approval nominations for all ministerial positions except heads of the Defense Ministry and Foreign Ministry.
Read alsoPoroshenko: Ukraine could count on $4 bln from U.S., IMF in case Cabinet operating - media"There are no reasons today to talk about the existence of a strongly approved list of candidates for ministerial posts. We must remember that the coalition's composition will not necessarily fully reflect the composition of those who voted for the prime minister and the government," says the source of ZN.UA.
If you see a spelling error on our site, select it and press Ctrl+Enter