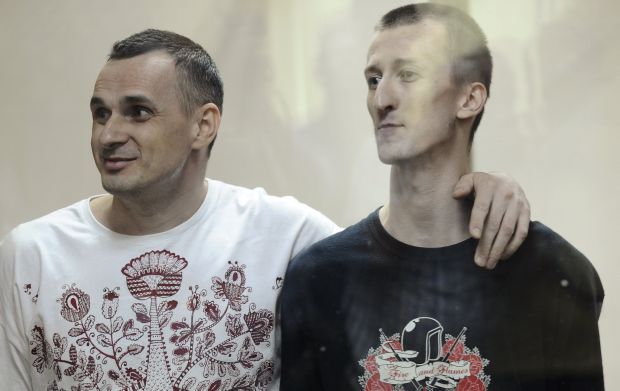 REUTERS
"During a visit to Sentsov and Kolchenko, High Commissioner for Human Rights invited them to write a statement requesting her to assist in confirming the citizenship of Ukraine. As a result, according to the statements by Sentsov and Kolchenko submitted in July 2014, as well as on the appeals of their lawyers and Verkhovna Rada Commissioner for Human Rights, the Ombudsman has taken a number of measures, and the legal position is being formed, which is set out below, on the citizenship of these persons," the report says.
According to the Ombudsman, Sentsov and Kolchenko who lived before their arrest in Crimea asked to consider them only Ukrainian citizens. "At the same time, in accordance with Article 5 of the Treaty between the Russian Federation and the Republic of Crimea of March 18, 2014, they were recognized as citizens of the Russian Federation, because they did not officially announce the refusal from the Russian citizenship within the prescribed month."
In her correspondence with the competent Russian authorities involved in the case of the above-mentioned citizens, the Commissioner "insisted that they were citizens of Ukraine, despite their Russian citizenship, hypothetically obtained on the basis of the Treaty."
Read alsoRussia may transfer to Ukraine Sentsov, another 3 political prisoners"The Ukrainian citizenship of Sentsov and Kolchenko is officially confirmed, and no one doubts it," the report says.
However, it is stressed that there is still "disagreement about their dual nationality."
Read alsoPoroshenko enacts Savchenko-Sentsov ListAs UNIAN reported earlier, Ukrainian film director Sentsov was arrested by Russian security service officers in the annexed Crimea in May 2014 together with pro-Ukrainian activists Oleksandr Kolchenko, Oleksiy Cherniy and Hennadiy Afanasiyev. They were all charged with plotting terrorist acts.
Both men have denied their guilt from the day of their arrest.
On August 25, 2015, the military court in Russia's city of Rostov-on-Don sentenced Ukrainian film director Oleh Sentsov to 20 years in prison and Ukrainian activist Oleksandr Kolchenko to 10 years in prison, both were accused of terrorism and would be kept in a high-security penal colony.
On November 24, Russia's Supreme Court upheld the trial court's decision against Ukrainian film director Oleh Sentsov and Ukrainian activist Oleksandr Kolchenko.
On March 10, Russia's Justice Ministry received Ukraine's request to hand over director Oleh Sentsov and three sentenced Ukrainian citizens.
Later, it became known that the Russian Ministry of Justice had instructed the Federal Penitentiary Service to draft the documents for resolving the issue of transfer to Ukraine of four convicts, including film director Oleh Sentsov, for serving the remaining prison term in their homeland.