Odesa region's prosecutor dismissed under lustration law
Acting Prosecutor General Yuriy Sevruk on April 15, 2016, dismissed Odesa Region Prosecutor Mykola Stoyanov, according to the press service of the Prosecutor General's Office (PGO) of Ukraine.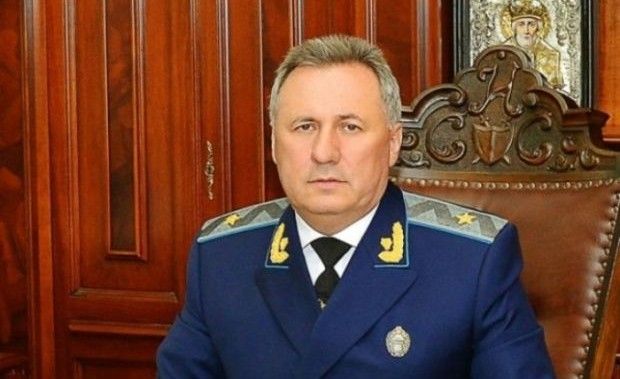 Reinstated Odesa Region Prosecutor Stoyanov stayed in office for two weeks / Photo from Dumskaya.net
The dismissal was in line with the provisions of the Law of Ukraine on Prosecution and the Law of Ukraine on Lustration following the examination of Stoyanov's personal records," the press service reported quoting PGO prosecutor Vladyslav Kutsenko as saying.
As UNIAN reported earlier, Ukrainian President Petro Poroshenko demanded that Sevruk should immediately dismiss Stoyanov as part of the lustration campaign.
Stoyanov, who once headed the prosecution agency in Odesa region, was returned to this position late in March 2016 by outgoing Prosecutor General Viktor Shokin after he had dismissed reformist Deputy Prosecutor General and simultaneously Odesa Region Prosecutor David Sakvarelidze. Shokin claimed that Sakvarelidze "had grossly violated prosecutorial ethics."
Read alsoSakvarelidze's dismissal 'clearing of comfortable field' for Shokin's successor controlled by AP – expertStoyanov first became chief prosecutor in Odesa region in May 2014, when the then PGO head Oleh Makhnytsky appointed him to that position. He was sacked with the arrival of the next Prosecutor General Vitaliy Yarema.
The PGO explained that Stoyanov had been reinstated by Shokin in keeping with a court ruling. But the decision was not approved by the public who staged a protest rally in the center of Odesa late on March 30, 2016, demanding Stoyanov should be fired.
The Justice Ministry said then that Stoyanov was subject to dismissal under the lustration law.
If you see a spelling error on our site, select it and press Ctrl+Enter