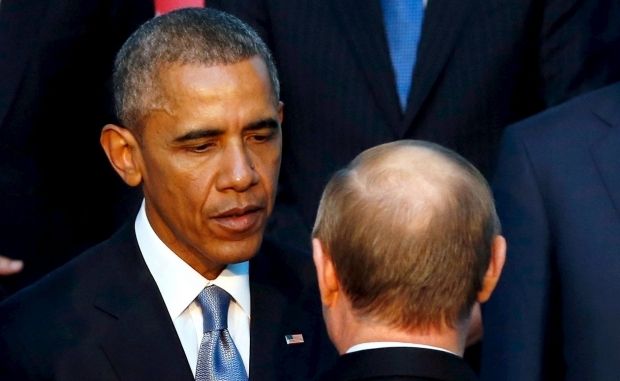 REUTERS
"During the discussion of Ukraine, the President of Russia again pointed to the importance of Kyiv strictly observing the Minsk agreements of February 12, 2015, including the start of a real direct dialogue with Donetsk and Luhansk, amnesty, special status for the 'DPR' and the 'LPR' and the joint elaboration of a law on local elections," the press service said.
Putin emphasized that there is no alternative to a political settlement.
He also "stressed the need to step up efforts to address ceasefire violations and the importance of full compliance with the agreement on the withdrawal of heavy weapons and the separation of the sides to the conflict, in which the OSCE Special Monitoring Mission has a major role to play."
The telephone conversation was held at Russia's initiative.
Read alsoObama to offer NATO to "cooperate more closely" with EU - NYTPutin also informed his American counterpart, as Co-Chair of the OSCE Minsk Group (Russia, the United States and France) on the Nagorno-Karabakh peace process, of the results of the trilateral meeting with the leaders of Azerbaijan and Armenia, Ilham Aliyev and Serzh Sargsyan, in St Petersburg on June 20.
Putin emphasized that Russia organized the talks to help stabilize the situation in the conflict zone as soon as possible and create the conditions for progress in the peace process.
"Barack Obama praised Russia's efforts, and the leaders agreed to continue active cooperation in the Minsk OSCE Group on this vital issue," the press service said.
During the discussion of the situation in Syria, Putin urged Obama to facilitate as quickly as possible the separation of moderate Syrian opposition forces from the terrorist group Jabhat al-Nusra and other extremists that are not covered by the ceasefire regime. "Both sides reaffirmed their readiness to step up coordination of American and Russian military actions in Syria, and emphasized the importance of resuming inter-Syrian negotiations under the aegis of the UN to achieve a political settlement," the press service said.