Provocative tweet of Ukrainian Vice PM fake
Certain Polish media have spread a fake statement by Ukraine's Vice-Prime Minister for European and Euro-Atlantic integration Ivanna Klympush-Tsintsadze regarding the Volyn tragedy, the official said.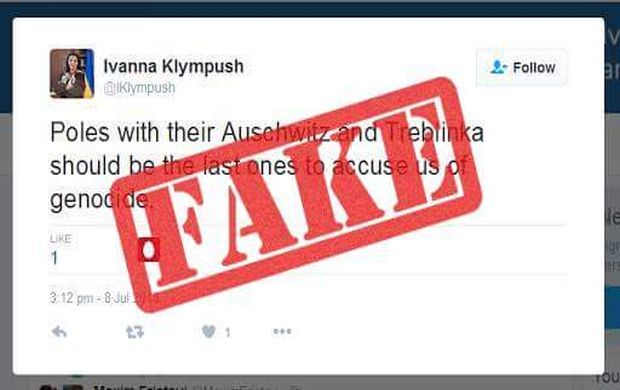 facebook.com/ivanna.klympushtsintsadze
"Poles with their Auschwitz and Treblinka should be the last ones to accuse us of genocide," reads a tweet published on the Ukrainian vice prime minister's fake Twitter account, Klympush Tsintsadze wrote on Facebook.
Read alsoPolish Def. Min. says part of blame for Volyn tragedy on Russia"Given that this fake is actively spreading on Russian [online] resources (and it is there where the Polisch media, unfortunately, caught the story), it is easy to guess who stands behind this and who benefits from getting us into an argument with the Poles," wrote the vice prime minister.
As UNIAN reported earlier, on July 8, the Polish Senate called for the recognition of the Volyn tragedy as genocide, "committed by the Ukrainian nationalists against the citizens of the Second Polish Republic."
If you see a spelling error on our site, select it and press Ctrl+Enter