Poroshenko to Hollande, Merkel: Kremlin's allegations aim to discredit Ukraine
Ukrainian President Petro Poroshenko has told French President Francois Hollande and German Chancellor Angela Merkel that the Kremlin's allegations against Ukraine of plotting terrorist acts in the Russian-occupied Crimea aim to discredit the country in the international partners' eyes.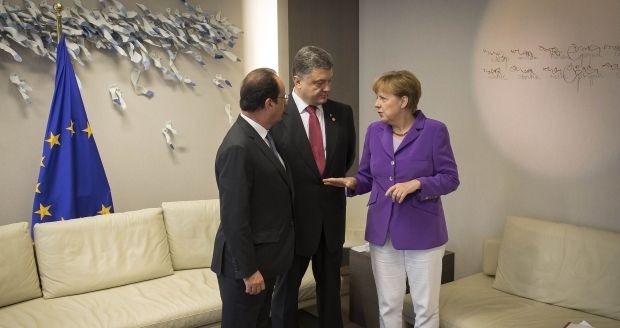 REUTERS
"The accusations brought by the Kremlin against Ukraine that it allegedly carried out subversive activity on the peninsula are aimed, among other things, at discrediting Ukraine in the eyes of the international partners," the Ukrainian president's press service reported in a readout of a recent phone call between Poroshenko and the French and German leaders.
Read alsoCrimea provocation: Neither satellites, nor locals confirm Kremlin's allegations – Klimkin"Of particular concern is the fact that Russia has used the abovementioned provocation as a pretext for torpedoing of work in the Normandy format and the implementation of the Minsk agreements," the press service quoted Poroshenko as saying.
According to Poroshenko, the Kremlin's recent provocation has caused a considerable aggravation of security in the region.
Read alsoGermany expects investigation into Crimean events – SteinmeierThe European leaders in turn assured their Ukrainian counterpart of assistance in de-escalation and expressed readiness to jointly work to improve the situation.
The parties reaffirmed commitment to joint efforts to resolve the conflict in temporarily occupied Donbas and Crimea solely through political and diplomatic means and stressed the need for a consistent continuation of cooperation in the Normandy format.
If you see a spelling error on our site, select it and press Ctrl+Enter