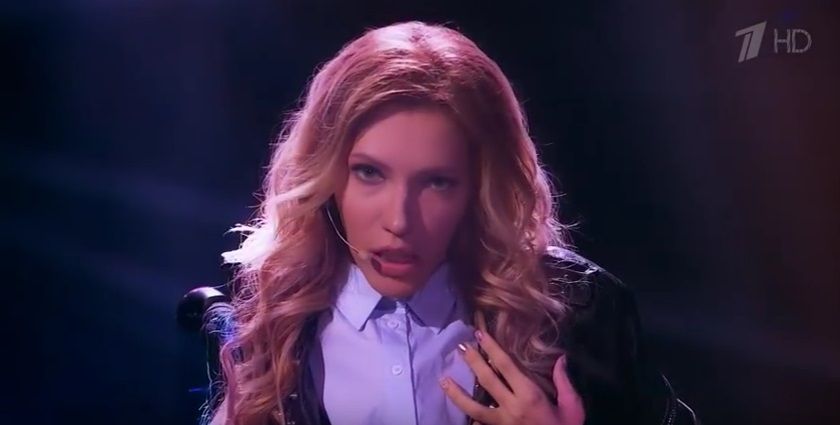 Screenshot
The Ukrainian official sees a sudden choice by Russia's Eurovision broadcaster, Perviy TV channel, of an entry by Julia Samoilova, a wheel-chaired performer, as one of the first steps in a multi-level information campaign aimed at smearing this year's Eurovision host, Ukraine.
Mr Zolotukhin recalls that as of January 31, 2017, Russia's short list of candidates to represent the country in the song contest in Kyiv included Aleksandr Panayotov, Elena Temnikova, Nyusha, and SOPRANO, according to an official ESC2017 selection website. Moreover, the online public vote showed a 25.6% support for Elena Temnikova.
Read alsoEurovision-2017: SBU to check Russia's representative, to take "weighted decision"The elaborate campaign may have started with a side-show, Zolotukhin believes. That was when a Russian talent show participant, a handicapped dancer, was humiliated by judges for allegedly putting forward his disability. The deputy minister suggests that the subsequent wave of indignation, which swept across scial networks, including in the Ukrainian segment of internet, was aimed at preventing a discourse claiming that Russia is "playing on empathy and emotions."
"That's called a 'preventive spin'," Zolotukhin wrote on Facebook.
Suggesting that this is just a beginning of a larger scale operation, the deputy minister did not rule out that the FSB masterminds would set up some sort of a provocation, perhaps even during Julia Samoilova's performance.
This will definitely be followed by the Kremlin's traditional propaganda narrative about "radicals" and "fascists" in Ukraine.
Read alsoMFA Russia concerned with campaign against Russian banks in UkraineAt the same time, Zolotukhin stresses Ukraine's obligations before the European Broadcasting Union, which has insisted that Ukraine ensure safety at the event.
"Of course, any response to this special operation will remain within Ukrainian legislation framework," Zolotukhin writes. "But such an open exploitation with a manipulative objective of a person with special needs is an apotheosis of meanness, cynicism, and filth, of which only some sick minds would be capable."