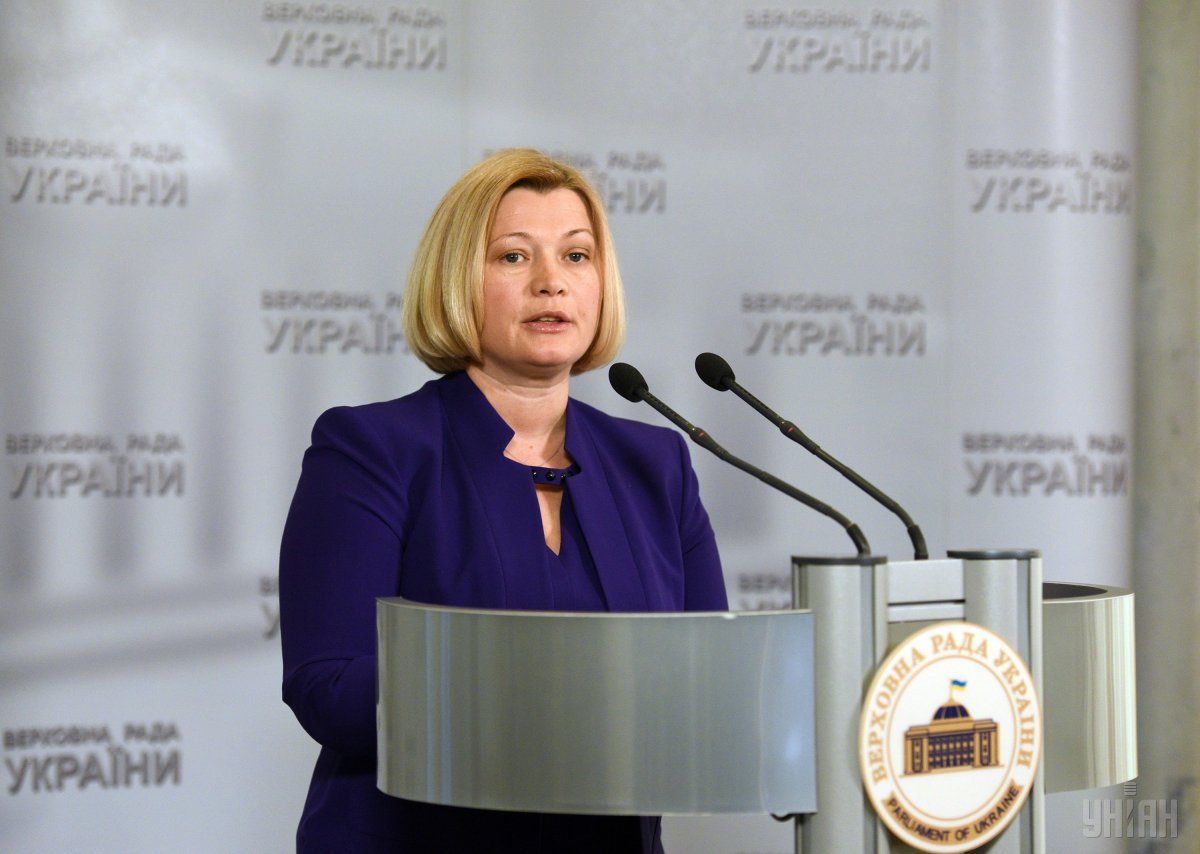 Gerashchenko as Ukraine's envoy in the Minsk TCG's humanitarian subgroup deals with  POW swaps / Photo from UNIAN
"War criminal Ageyev's mother asks [Ukrainian] President Poroshenko to pardon the murderer of Ukrainians, and we, the Ukrainians, demand that Putin pardon Oleg Sentsov who will celebrate his birthday tomorrow [July 13] and whom two children and the elderly mother have been waiting at home, in Crimea, occupied by such Ageyevs," Gerashchenko wrote on Facebook.
"We demand clemency for Oleksandr Kolchenko who has not been allowed any ICRC visits over the years; Mykola Karpiuk whom a little son and the young wife have been waiting for; Stas Klykh whose parents are seriously ill; Valentyn Vyhovsky who imprisoned with no charges; Roman Sushchenko who has got two children, the wife and the elderly parents," she said.
Read alsoDetainee Ageyev captured in Donbas confirms being Russia's "contracted serviceman""Relatives of Russian journalists killed in Donbas in May 2016 appealed to Putin to pardon Nadiia Savchenko [the Russian authorities accused her of involvement in these journalists' murder].This was a formal scenario of her release, and then the Ukrainian side handed over the murderers – [Russian] GRU officers [Yevgeniy] Yerofeyev and [Aleksandr] Aleksandrov to Russia so that Nadiia could be freed. There is a request for the Novaya Gazeta newspaper, which publishes such appeals by Ageyev's mother – please advise her to ask Putin to pardon the Ukrainians! This could unlock the hostage release process. Maybe then Russia will be able to recognize that Ageyev and Co., who are behind bars in Ukraine, are their military personnel that 'got lost' [in Ukraine]," Gerashchenko added.
UNIAN earlier reported that Ageyev's mother asked in a video message posted by the Russian newspaper Novaya Gazeta that the president of Ukraine pardon her son.
Russian contract soldier Ageyev, 22, was detained by members of the 93rd separate mechanized brigade of the Armed Forces of Ukraine in Luhansk region on June 24, 2017. He was member of a special forces group who were neutralized near the town of Zholobok.
Ageyev and three other fighters are charged with terrorism and are now in a detention center in the town of Starobilsk.
Ageyev's mother, his friends and former colleagues confirmed in an interview with journalists that after compulsory military service he signed a contract in March 2017 to serve in the Russian army.
The Defense Ministry of Russia maintains that Ageyev had previously served in the Russian army, but "was dismissed."
At the same time, the Kremlin dodged an answer to a question if the Russians captured in Ukraine could be swapped for the Ukrainians held hostage in the Russian Federation.