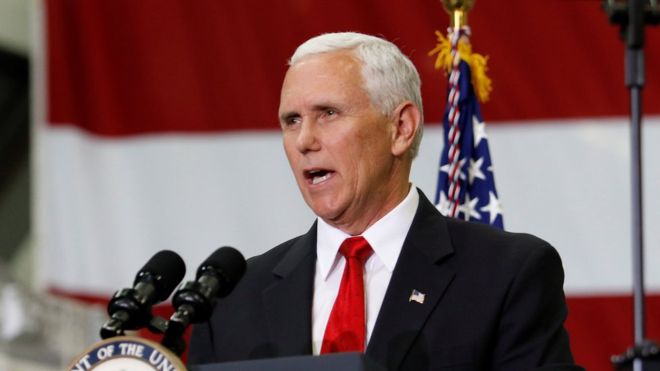 REUTERS
"President Trump will sign the Russia sanctions bill soon," he said at a joint press conference with Georgian Prime Minister Giorgi Kvirikashvili in Tbilisi, Georgia, on August 1.
In his words, since some of Trump's concerns with the Russia sanctions bill have been fixed, he will sign it soon.
"In signing the sanctions, our President and our Congress are speaking with the unified voice that those matters that the president spoke about so eloquently in Warsaw about Russian destabilizing activities, Russia's efforts to support rogue regimes, – that has to change. For there to be a change in our relationship with Russia, Russia has to change its behavior," he said.
Late in July, the U.S. Senate voted 98-2 to impose new sanctions on Russia, Iran and North Korea, despite objections from the White House. The sanctions were drawn up in part to punish Russia further over the annexation of Crimea from Ukraine in 2014. But the bill was criticized by some European countries which deal with Russian energy pipelines – which may fall foul of the new sanctions.
Read alsoU.S. Senate slaps new sanctions on Russia, putting Trump in cornerAs UNIAN reported earlier, in his keynote address to the Polish people delivered at Warsaw's historic Krasinski Square on July 6, U.S. President Donald Trump called on Russia to "cease its destabilizing activities in Ukraine and elsewhere."
"We urge Russia to cease its destabilizing activities in Ukraine and elsewhere, and its support for hostile regimes including Syria and Iran, and to instead join the community of responsible nations in our fight against common enemies and in defense of civilization itself," he said.