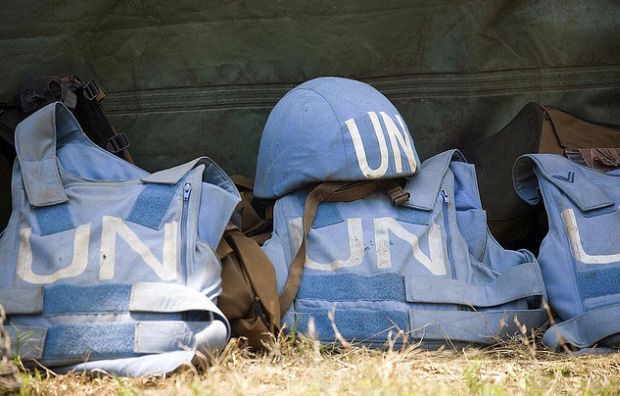 Photo from www.un.org
"The practice of engaging separatists in the negotiation process on peacekeeping in this or that region is unacceptable and unknown to the UN," spokesman for the Office Martin Schaefer said in a statement available to UNIAN.
Russian President Vladimir Putin announced on September 5 he supported the idea of UN peacekeepers in Donbas but only if they are deployed along the contact line to ensure the safety of OSCE SMM observers. At the same time, he noted that the issue could not be resolved without direct contact with representatives of the self-proclaimed Donbas republics.
Read alsoUkraine's envoy: Russia's UN resolution on Donbas has nothing to do with peacekeeping"One should not immediately take Putin's initiative in such a critical way: in the end, it is a concrete proposal that is in line with the Ukrainian one, although with the exception of a few key differences," Schaefer added.
"Indeed, it is inappropriate to talk only about the contact line, because the separatists are hampering the OSCE SMM's access throughout the eastern part of Ukraine, and not only along the contact line," he said.
At the same time, he noted that one can only "read coffee grounds" to find out what prompted the Russian president to make such a decision.
"We'll see what will be presented in New York City. The question of the nationality of participants in the peacekeeping mission is open," he added.
The Ukrainian Foreign Ministry said that Putin's statement proves Russia's new attempt as a party to the Donbas conflict to present its aggression as a domestic Ukrainian conflict and distort the very idea and purpose of deploying a peacekeeping mission whose original goal is to establish a lasting peace in Donbas and restore the territorial integrity of Ukraine.
The Ukrainian side said it is also against including Russians in the peacekeeping mission.