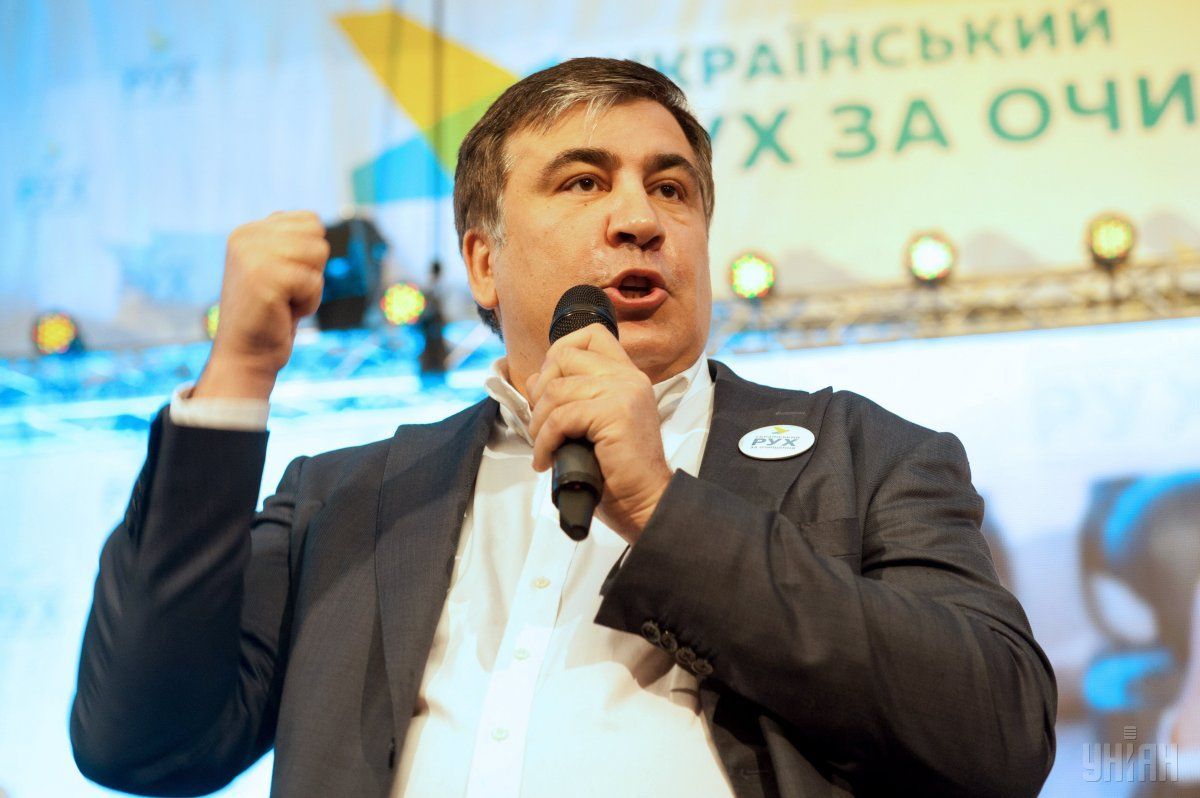 Photo from UNIAN
Ukrainian border guards say they will seize Saakashvili's Ukrainian passport given the fact that he has been stripped of citizenship, so that he returns to Poland to determine his legal status.
Meanwhile, since last night, the supporters of the Georgian ex-president started arriving at the checkpoint as police are beefing up security measures around the site.
Ex-head of Odesa regional administration was reported to speak at a press conference in Poland's Rzeszów before going for Krakivets on a bus along with reporters from several media outlets covering his return attempt.
Yulia Tymoshenko, the leader of Ukraine's Batkivshchyna [Fatherland] party also arrived in Rzeszow.
Law enforcers are reported to have surrounded a group of possible provocateurs sporting camouflage outfits, who also arrived at Krakivets.
Read alsoSaakashvili en route to Poland-Ukraine border (Photo)As UNIAN reported earlier, July 27, 2017 came the reports that President of Ukraine Petro Poroshenko signed a decree effectively terminating Ukrainian citizenship of the ex-president of Georgia and the former chairman of the Odesa Regional State Administration, Mikheil Saakashvili. The move allegedly came following the official report by the State Migration Service claiming that the politician had provided false information in his application for citizenship, in particular, as regards his conviction in Georgia.
Immediately after that, Saakashvili left Ukraine. First he traveled to the U.S., then flew to Poland and Lithuania, and then moved across Europe allegedly using his passport of Ukraine.
On August 6, Saakashvili announced that he would return to Ukraine on September 10. He claims that he has only one citizenship, the Ukrainian one. He also said that Poroshenko should give him the opportunity to return to Ukraine and "give him the right to defend" his citizenship in court.
On September 5, Deputy Minister of Justice of Ukraine Serhiy Petukhov said that Georgia had requested that the Ukrainian authorities search for, detain and extradite Mr Saakashvili. He specified that, according to the Georgian Prosecutor General's Office, Saakashvili is being charged on four accounts. The court in Georgia Saakashvili chose taking into custody as a preventive measure against Saakashvili, putting him on the wanted list.
Read alsoGeorgian prosecutors elaborate on charges against SaakashviliAt the same time, Saakashvili's supporters, activists, and a number of people's deputies, including Batkivshchyna leader Yulia Tymoshenko, are going to meet Saakashvili at the border.