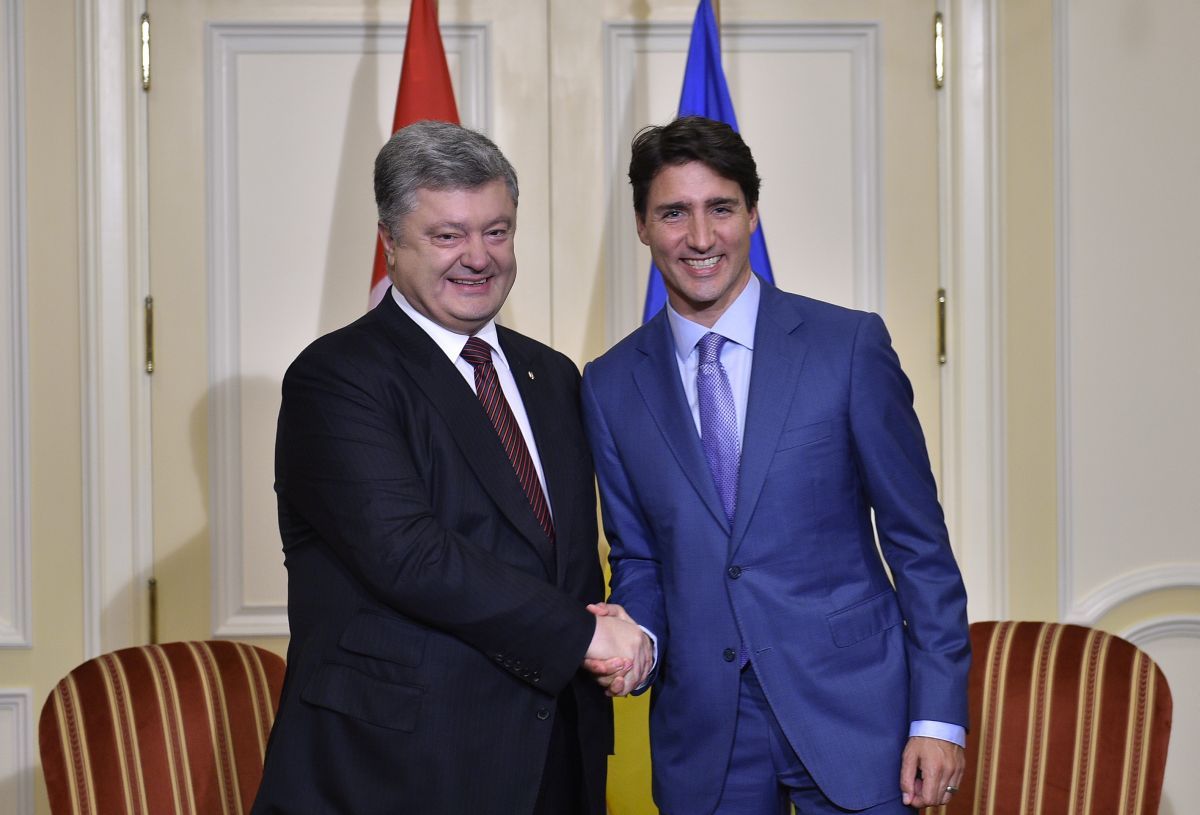 president.gov.ua
Poroshenko called it "extremely important, because Canada has a unique experience," noting Canada's historic role in developing the UN's peacekeeping function, CBC reports.
Russia annexed Crimea in 2014 and Russian-backed separatist fighters subsequently took up arms against Ukrainian government forces in the east of the country. The conflict — now in its fourth year — has killed more than 10,000 people, injured 24,000 and forced 1.6 million to leave their homes, according to the UN.
Canada has already trained more than 5,000 Ukrainian soldiers to fight Moscow-backed rebels, and Ottawa has given the country $16 million in non-lethal equipment such as helmets, bulletproof vests and winter clothing.
Read alsoUkraine asks Canada for access to satellite images to monitor Russian, militant troop movementsBut there is growing push for Ottawa to commit peacekeeping troops in war-torn Ukraine.
Last year, Canadian Prime Minister Justin Trudeau promised to deliver 600 soldiers and 150 police officers to UN-mandated peace support operations. The federal government has not yet committed to any specific mission.
"I have a feeling he's absolutely open," Poroshenko said of Trudeau's views about sending Canadian peacekeepers to his country. "I'm fully satisfied with our discussion with Prime Minister Trudeau."
Read alsoExpert says Putin prepares plan B for DonbasAs UNIAN reported earlier, Russian President Vladimir Putin said on September 5 he considered the deployment of UN peacekeepers in Donbas "quite appropriate," but only along the line of contact and with the aim of protecting the OSCE mission. At the same time, he stressed the issue could not be resolved without direct contact with representatives of pro-Russian militants in Donbas. Following that, Russia sent a draft resolution to the UN leadership regarding the deployment of peacekeepers in Donbas.
In turn, Petro Poroshenko said on September 7 that the UN peacekeepers should be deployed throughout the temporarily occupied territory, including an uncontrolled section of the border with the Russian Federation.
Read alsoRussia not to go for concessions on Donbas: StratforOn September 8, Russian Foreign Minister Sergei Lavrov elaborated on Putin's statement about peacekeepers along the line of contact in Donbas. "It's not the UN forces, it's the mission to facilitate protection of OSCE observers. It is fully in line with the logic of Minsk agreements," said Lavrov.
September 20, Poroshenko stated that there is no place for the representatives of the aggressor in the UN peacekeeping mission in Donbas.