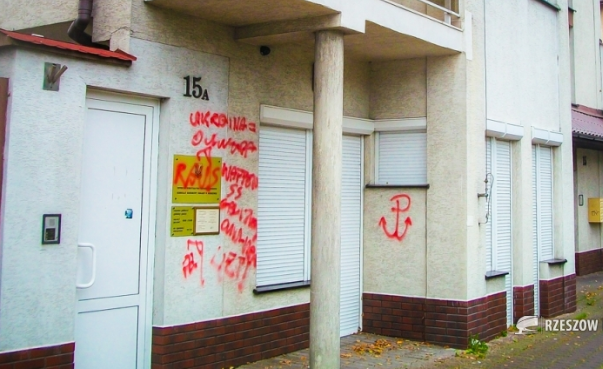 Rzeszow-news
The vandals spray-painted on the Consulate's wall in Polish language: "Ukraine is OUN-UPA, Waffen SS Galitzien," and drew scaffolds next to the coat of arms of Ukraine. An inscription "Raus" ("Get out" in German) was also spray-painted, as well as a Nazi swastika and an inscription in Russian meaning "No", the report by Rzeszow News wrote.
According to the publication, the incident occurred in the evening hours of Saturday, September 30. Local residents spotted an unidentified man of about 30 years old vandalizing the wall of the Ukrainian Consulate. The man is reported to have ignored calls from the locals to cease his act.
Read alsoMonument to UPA fighters demolished at Polish cemetery: Authorities claim "illegal construction"The law enforcers are said to be already investigating the incident.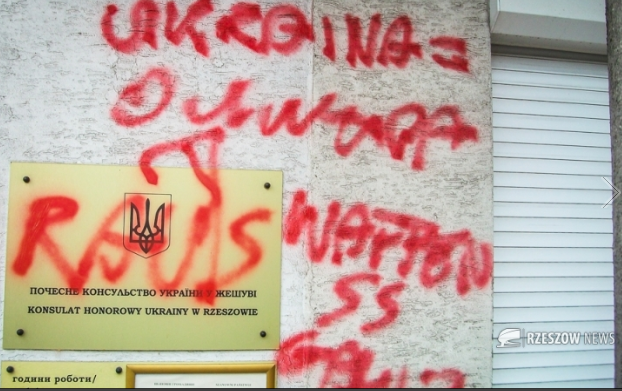 Rzeszow-news
As UNIAN reported earlier, the Ukrainian police and SBU security service busted a gang which specialized on committing acts of provocative nature, including violent crimes, aimed to seed ethnic hatred. The perpetrators were arrested as they were preparing yet another attack, this time in Zakarpattia region, where they plotted to blow up a Hungarian monument amid the latest tensions between Hungary and Ukraine over the language clause in Ukraine's new education law.