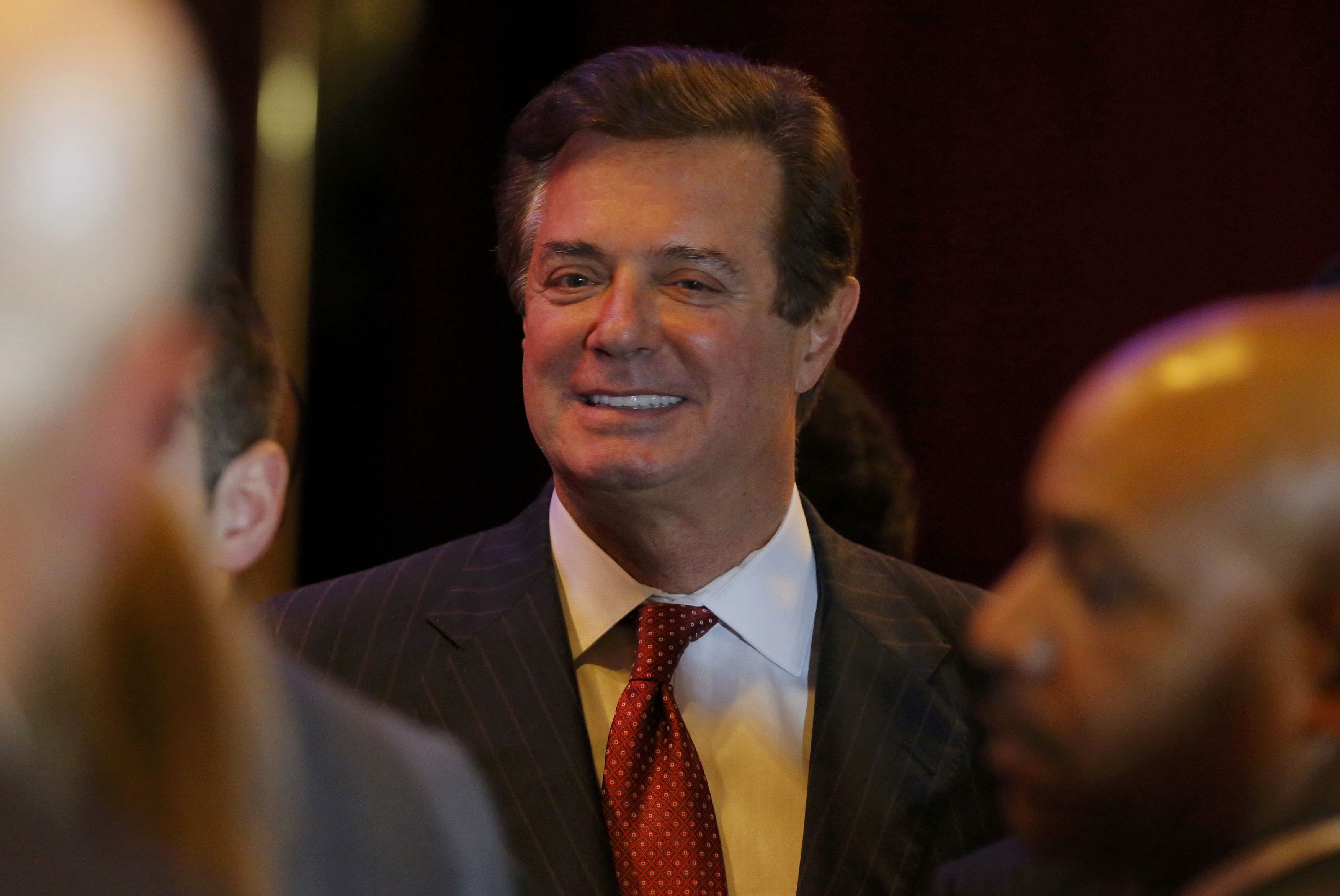 REUTERS
The report, by Skadden Arps Slate Meagher & Flom LLC, defied the view held by the U.S. and the European Union that the case against her was politically motivated, Bloomberg wrote.
The firm's $12,000 payment was modest, just below the amount that required public bidding.
The following year, however, with no further work done, Ukraine sent Skadden $1 million. After the pro-Russian government was run out of town in 2014, the new authorities began investigating.
And while Ukrainian prosecutors are still scrutinizing what happened, last week produced another shock: the federal indictment of Paul Manafort, President Donald Trump's former campaign chairman over his work in Ukraine, says he and his business partner lobbied for the report and funneled an additional $4 million to secretly pay for it. It's unclear whether Skadden – or one of the other lobbying firms involved in publicizing the report – was the recipient of those funds.
Reporting Requirement
Skadden's actions raise a number of red flags. Andriy Radionov, a prosecutor in the investigations unit in the Ukrainian prosecutor's office, said the firm recently provided Ukraine with a refund for $567,000, saying it had been overpaid. And, if Skadden was trying to influence U.S. policy on Ukraine's behalf, it might have been required to report its work to the Justice Department, which it didn't do. Legal counsel doesn't require such reporting but advocacy does.
Skadden wasn't named in the indictment and hasn't been accused of wrongdoing. The firm declined to answer specific questions but said in a statement that it produced an independent report, nothing more – it hadn't engaged in activities on behalf of Ukraine in the U.S. and wasn't required to register with the Justice Department.
Read alsoReuters: Ukraine's Tymoshenko expects fair U.S. ruling after Manafort indictedManafort and his partner Richard Gates are accused of laundering millions of dollars from unreported work for Ukraine and its political parties, money that ran through offshore accounts. Both men have pleaded not guilty.
Manafort was a longtime political adviser to Tymoshenko's rival, the pro-Russian politician Viktor Yanukovych, advising him on political strategy and sprucing up his image in Washington. After Yanukovych clinched the presidency in 2010, he ordered an investigation of Tymoshenko that resulted in a conviction and seven-year sentence, widely condemned abroad.
Manafort was involved in recruiting Skadden to prepare the report on behalf of Ukraine, according to documents reviewed by Bloomberg News. The Skadden team was headed by Gregory Craig, a partner who had worked as President Barack Obama's White House counsel from 2009 to 2010 and for President Bill Clinton during his impeachment.
Correspondence between Craig, Manafort and the Ukrainian government show Skadden agreeing to accept payment from a "third party," Radionov, the prosecutor, said. What that means is unclear.
The Justice Department has asked Skadden for information and documents related to its work for the Yanukovych government, the New York Times reported in September.
"I would be astonished if a major U.S. law firm took money they knew was illegally sourced or somewhat questionable," said Kenneth McCallion, a lawyer who has represented Tymoshenko, the convicted prime minister.
Jason Maloni, a spokesman for Manafort, declined to comment about the report. A spokesman for Special Counsel Robert Mueller, whose office charged Manafort and Gates, declined to comment.
Media Strategy
The indictment provides fresh details about Manafort's clandestine influence campaign on behalf of Yanukovych in the U.S. It alleges that offshore accounts associated with Manafort and Gates paid more than $2 million between 2012 and 2014 to two companies that lobbied members of Congress and their staffs about Ukraine sanctions and "the propriety of imprisoning his presidential rival."
The firms have been identified as the Podesta Group Inc. and Mercury Public Affairs LLC. Tony Podesta, who ran the Podesta Group, resigned last week following the indictment. Through a spokeswoman, he declined to comment.
In April, the Podesta Group and Mercury filed belated disclosures with the Justice Department outlining their work with the European Centre for a Modern Ukraine, a non-profit that Mueller says was used by Manafort and Gates to lobby for Yanukovych. In those filings, Podesta and Mercury said they were unaware their work was for the Ukrainian government.
While Mercury and Podesta pushed out the report in the U.S., the public relations firm FTI Consulting was hired by Skadden to handle publicity in Europe. Manafort appeared to help draw up a six-page media strategy with FTI on how to use the report, Ukrainian prosecutors concluded, after reviewing documents. FTI declined to comment.
A fourth firm, Burson-Marsteller LLC, also worked for Yanukovych's party to explain its position on the Tymoshenko case, company officials have said. Karen Massin, chief executive officer of Burson-Marsteller in Brussels, confirmed Burson's work for the Centre. She declined to say who paid the firm or how much it earned.
Investigators in the U.S. and Ukraine have been looking into Manafort's and Skadden's work. But Serhiy Horbatiuk, the Ukrainian prosecutor investigating Yanukovych-era crimes, says seven letters from the general prosecutor to the U.S. Justice Department have gone unanswered. This week, an FBI agent meeting with Ukrainian prosecutors in Kyiv got an earful about lack of cooperation and failing to use proper procedures to collect documents in Ukraine, Radionov said.