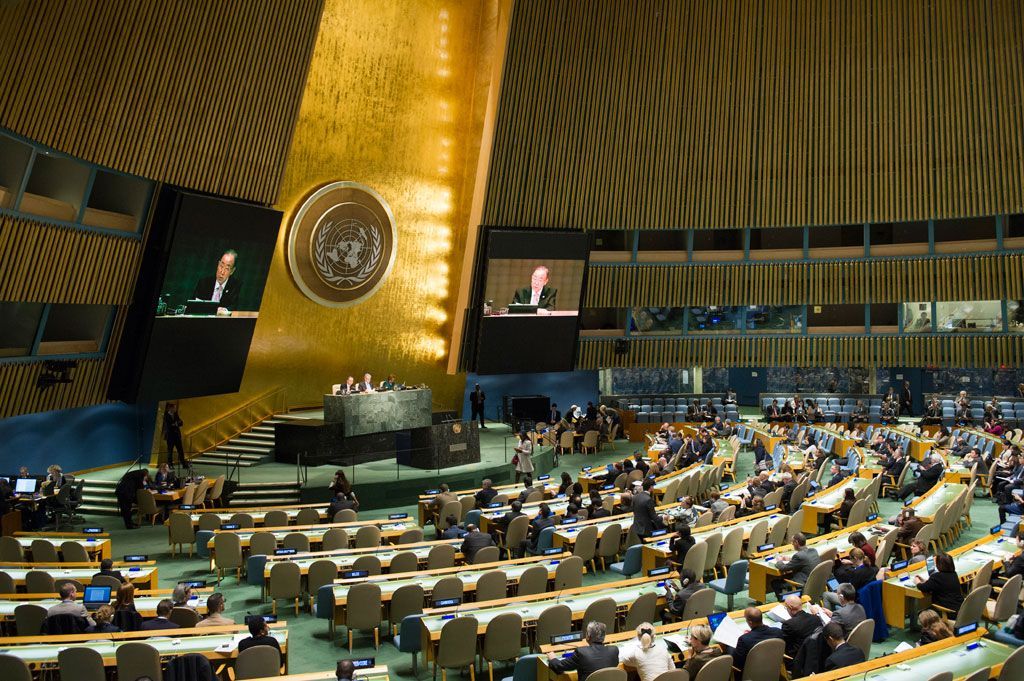 Photo from un.org
The draft resolution was adopted by a vote of 71 in favor to 25 against, with 77 abstentions, the UN said in its meeting coverage on the website.
The representative of Ukraine, introducing the draft, said it was a follow-up to last year's resolution.  The human rights situation in the Autonomous Republic of Crimea and city of Sevastopol, Ukraine, continued to deteriorate, and there was no sign that Russian authorities had complied with the requirements of the earlier resolution. 
Read alsoPersecution of Crimean Tatars intensifies in occupied Crimea - HRW Murder, harassment, detention and persecution of journalists and rights defenders persisted.  Russian occupying authorities had also incarcerated Crimean Tatars.  Ukraine was committed to protecting the rights of Crimean citizens, he said, stressing that the draft was not country-specific and urging Member States to adopt it by consensus.
"The General Assembly urges the Russian Federation to fully and immediately comply with the order of the International Court of Justice of April 19, 2017 on provisional measures in the case concerning Application of the International Convention for the Suppression of the Financing of Terrorism and of the International Convention on the Elimination of all Forms of Racial Discrimination (Ukraine v. Russian Federation)," the draft resolution said.
The International Court of Justice in particular demanded that Russia restore the rights and freedoms of citizens on the occupied peninsula. They include education in the Ukrainian and Crimean Tatar languages and the resumption of the work of the Crimean Tatar Mejlis, which has been outlawed by Russia as an extremist organization.
The press service of Ukraine's Ministry of Foreign Affairs told UNIAN that the UN General Assembly will consider the final version of the resolution at a plenary meeting in the second half of December.
"The current resolution, which has been adopted by the UN General Assembly's Third Committee today, aims to make Russia, as an occupying state, stop gross violations of human rights and fundamental freedoms," the ministry said.
Thus, the updated wording of the draft resolution significantly strengthens the demands of the international community vis-à-vis the occupier country.