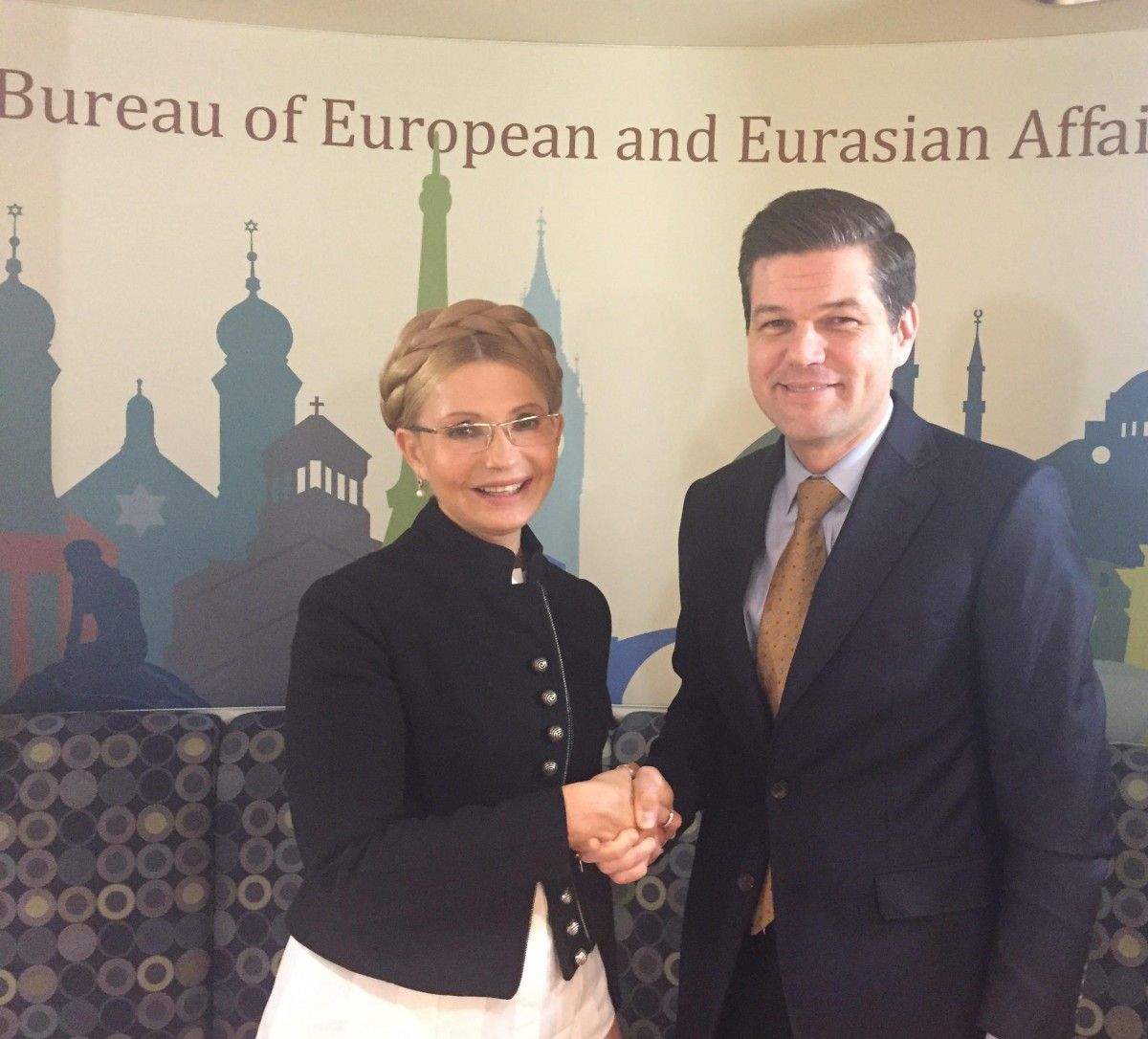 Tymoshenko with Mitchell / Photo from ba.org.ua
The fight against corruption in Ukraine and measures to restore peace in Donbas, eastern Ukraine, have topped the agenda of leader of the Ukrainian Batkivshchyna Party Yulia Tymoshenko's visit to the United States.
In particular, she met with U.S. Assistant Secretary of State for European and Eurasian Affairs Wess Mitchell on Friday, February 9, as part of her working visit to the United States.
Read alsoTymoshenko slightly ahead of Poroshenko in December pollsThe two politicians discussed ways to achieve sustainable peace in the east of Ukraine and the situation in the Russian-annexed Crimea.
Also, special attention was paid to the fight against corruption: they discussed the effectiveness of the existing anti-corruption agencies in Ukraine and prospects for the creation of an anti-corruption court, which would be completely independent.
As part of her visit to the United States, Tymoshenko, together with other Ukrainian delegates representing the Batkivshchyna Party, held a number of meetings with high-ranking officials, and also attended the National Prayer Breakfast with U.S. President Donald Trump.
Tymoshenko also met with U.S. Special Representative for Ukraine Negotiations Kurt Volker; they discussed prospects for the settlement of the conflict in the east of Ukraine, the possibility of deploying a UN peacekeeping mission to Donbas and issues of Ukraine-U.S. cooperation. Tymoshenko and Volker also discussed the domestic political and economic situation in Ukraine in detail and its impact on prospects for sustainable peace in Donbas. What is more, the two officials agreed on the need to ensure concrete results of work of anti-corruption institutions in Ukraine. Respect for the rule of law and the democratic political process in the context of the next presidential and parliamentary elections was discussed.
The situation in Ukraine, in particular issues related to Russian aggression against Ukraine, and the supply of lethal weapons by the United States to Ukraine were on the agenda of a meeting between Tymoshenko and Chairman of the Senate's Committee on Foreign Relations Bob Corker.
The Batkivshchyna Party's leader also met with high-ranking member of the Republican Party of the United States, Senator Marco Rubio. The two politicians discussed security, the social and economic situation in Ukraine. Rubio also accepted Tymoshenko's invitation to visit Ukraine at all reasonable time.
The Ukrainian politician also met with the leadership of the House Intelligence Committee; they discussed the fight against corruption in the upper echelons of power, the need to create and strengthen anti-corruption agencies and introduce parliamentary and public control over the security agencies.
As part of her working visit to the U.S., Tymoshenko met with Senator Bill Nelson, a former Space Shuttle astronaut.