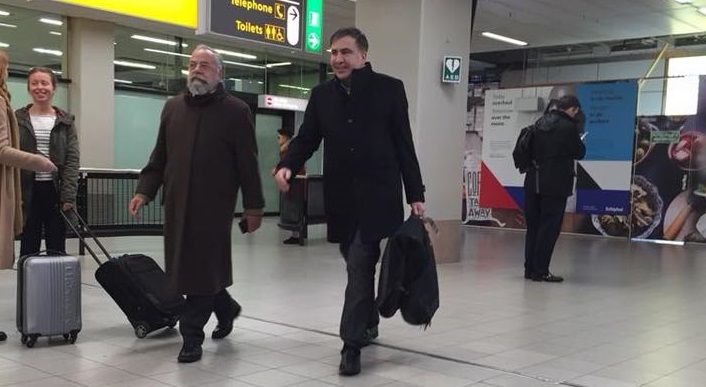 Photo from Oleksiy Honcharenko, Facebook
Ex-President of Georgia and leader of the "Movement of New Forces" in Ukraine Mikheil Saakashvili, who was expelled from Ukraine on February 12, 2018, has been spotted at Amsterdam Airport, the Netherlands.
A respective photo was posted by Ukrainian Member of Parliament Oleksiy Honcharenko on Facebook on February 14.
According to Honcharenko, his friend saw Saakashvili at the airport and took picture of him.
On February 13, Saakashvili was in Warsaw, Poland, where he had a press briefing for journalists. He shared his plans for the near future. In his words, he planned to meet with relatives in the Netherlands. His wife has Dutch citizenship.
Later, he said he plans to travel around Europe and be engaged in political activity. However, he assured he had not given up plans to return to Ukraine.
As UNIAN reported, Saakashvili was detained by the State Border Guard Service of Ukraine in a Kyiv restaurant on February 12 and sent back to Poland from where he had come to Ukraine. The Ukrainian authorities claim Saakashvili's arrival was illegal.