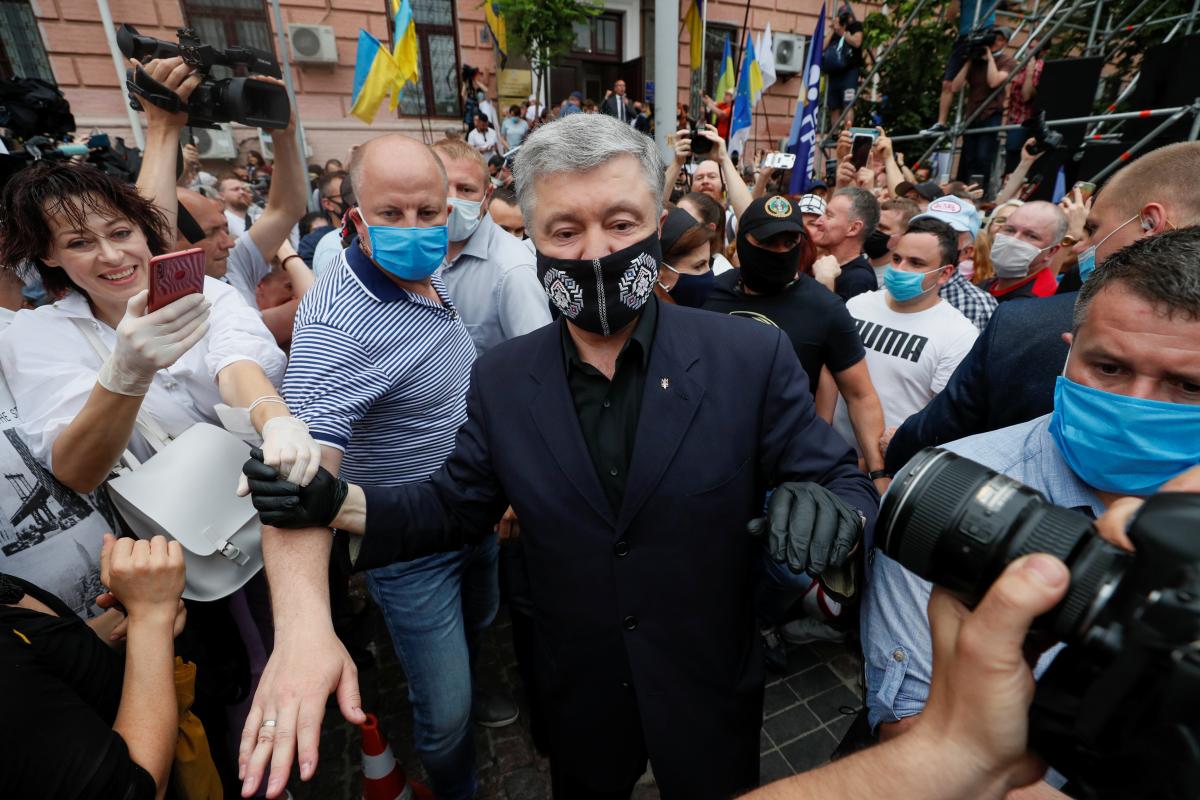 REUTERS
The State Bureau of Investigation on Thursday confirmed it is investigating possible "incitement to religious hatred" by former president Petro Poroshenko in a criminal proceeding launched in November 2019.
Earlier today, while addressing a crowd of supporters outside a Kyiv court, where Poroshenko came to attend a hearing in another case (on abuse of office charges), the ex-president claimed he was being investigated for contributing to Ukraine's new church obtaining from the Ecumenical Patriarch the "tomos" of autocephaly, that is, religious independence, following years of Russian meddling in religious affairs in Ukraine.
"On November 6, 2019, the SBU launched an investigation following the report by laity of [what was formerly known as] Kyiv Patriarchate of the UOC on the illegal actions of a number of senior officials who committed acts aimed at inciting religious hatred during the creation of the Orthodox Church of Ukraine. In the future, the SBU forwarded the case to the SBI," the SBI press service told UNIAN.
Read alsoRussia's Orthodox church rejects Ukrainian autocephaly – media
The investigation into this case is underway, the press service added.
As UNIAN reported earlier, Poroshenko called the cases brought against him "petty revenge of people with psychological complexes", adding that he is "not afraid" of the incumbent administration.
UNIAN memo. The Unification Council of members of the Ukrainian Orthodox churches in Kyiv on December 15, 2018, elected Metropolitan of Pereyaslavsky and Bila Tserkva from the then Ukrainian Orthodox Church of the Kyiv Patriarchate Epifaniy (also known as Epiphanius I) as head of the new local Orthodox Church in Ukraine.
On January 6, 2019, Epifaniy, as Primate of the Orthodox Church of Ukraine and Metropolitan of Kyiv and All Ukraine, received from Ecumenical Patriarch Bartholomew I in Istanbul the tomos of autocephaly (independence) of the Orthodox Church of Ukraine. Metropolitan of Kyiv and All Ukraine Epifaniy was inaugurated as Primate of the newly created Orthodox Church of Ukraine at Kyiv's Saint Sophia Cathedral on February 3.
The move to grant Ukraine the long-sought tomos came despite dramatic efforts by the Russian Orthodox Church to undermine and hinder the process through a wide variety of instruments, trying to influence the decision by the Ecumenical Patriarch and compromise his authority among church leaders globally.  
On June 20, 2019, in a defiant move following an apparent split with the OCU leadership after an initial approval of the independent church, Honorary Patriarch Filaret of the Ukrainian Orthodox Church convened a "local council", at which he announced the restoration of the liquidated UOC of the Kyiv Patriarchate and non-recognition of the Tomos of autocephaly granted to the Orthodox Church of Ukraine.