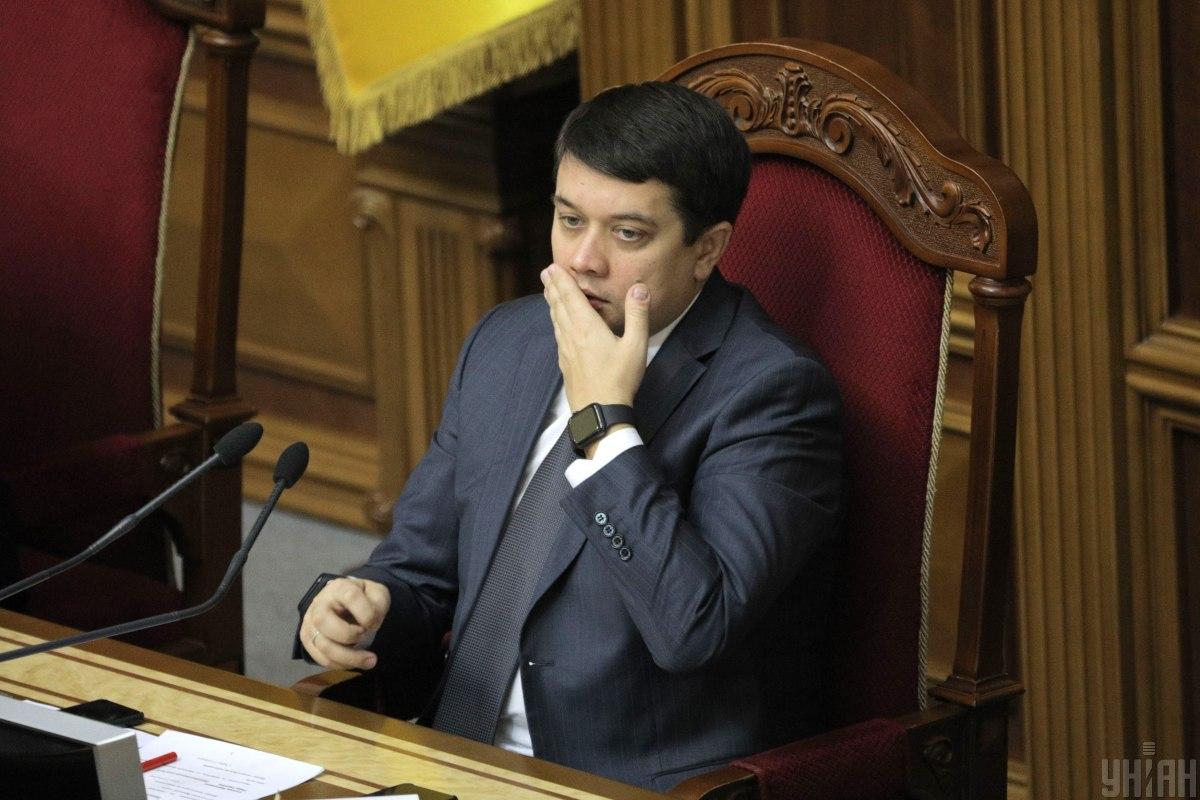 Photo from UNIAN
It is impossible to pass changes to the earlier adopted resolution on the holding of local elections across Ukraine, says Chairman of the Verkhovna Rada Dmytro Razumkov.
Speaking at the Freedom of Speech panel show Monday evening, he reiterated the position he had voiced earlier, according to an UNIAN correspondent.
"Amendments to this resolution, in my opinion, would be impossible today since legislation says the Verkhovna Rada shall announce elections no later than 90 days before the date of their holding," Razumkov said, noting that the issue has not been included in the plenary week's agenda.
"Today, to make such changes to the resolution would mean to call into question the legitimacy of the entire process," said Razumkov.
Also, he stressed, candidates have already been nominated and funding for the process has been released.
"And today it is rather difficult to talk about what we can or cannot do, based on the realities," added the chairman of the Verkhovna Rada.
Local elections and Russia's demands on Donbas
Russia sees the Minsk agreements as tools with which to break Ukraine's sovereignty. Its interpretation reverses key elements in the sequence of actions: elections in occupied Donbas would take place before Ukraine had reclaimed control of the border; this would be followed by comprehensive autonomy for Russia's proxy regimes, crippling the central authorities in Kyiv. Ukraine would be unable to govern itself effectively or orient itself towards the West, according to Chatham House.
On July 15, 2020, the Verkhovna Rada adopted a resolution scheduling local elections across Ukraine for October 25. Legislators note that the elections in the occupied territories of Crimea and Donbas shall not be scheduled or held. On August 19, at a meeting of the delegates to the Trilateral Contact Group on Donbas settlement, Ukraine's delegation chief, first president of Ukraine Leonid Kravchuk informed the team members of the appeal he had submitted to the Verkhovna Rada to consider the issue of the resolution's compliance with Law "On a special procedure for local self-government in certain areas of Donetsk and Luhansk regions" and a Package of Measures for the implementation of Minsk agreements.
Since August 19, Russia and its proxy forces have been blocking the TCG work demanding that Ukraine repeal part of the resolution on local elections that prohibits their holding in the occupied areas.