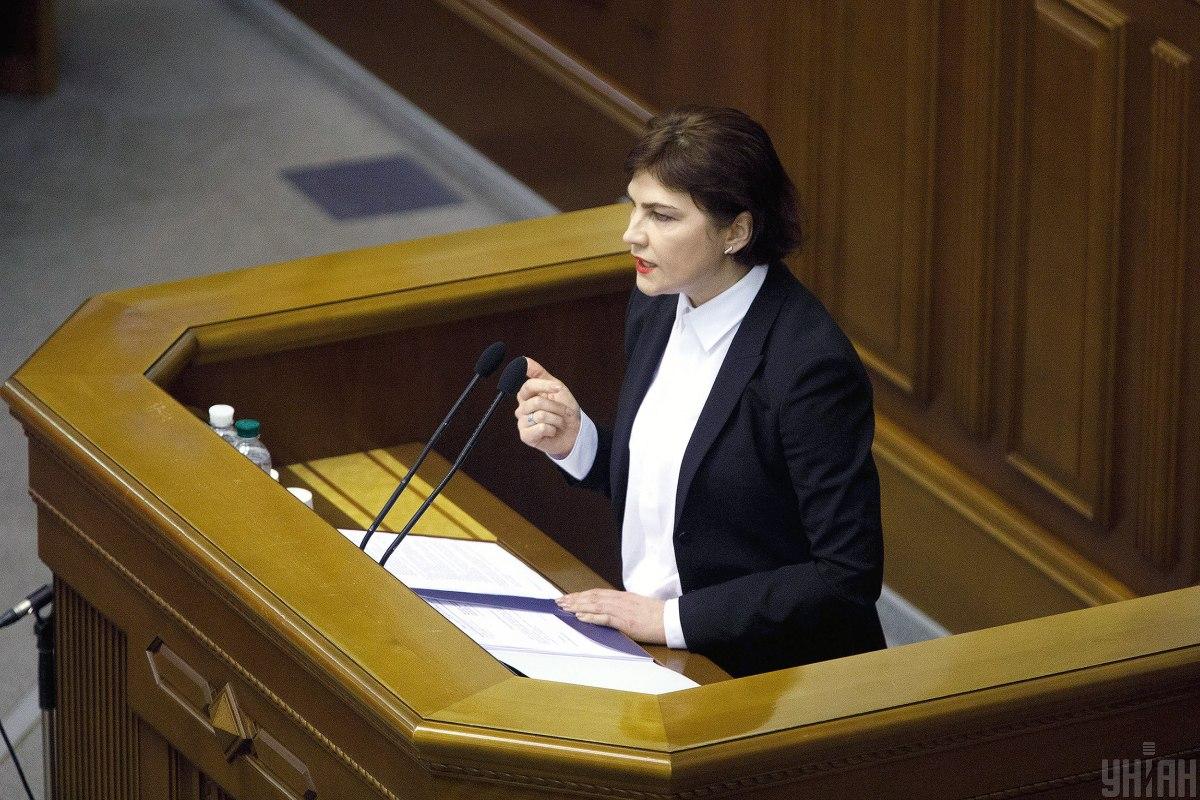 Iryna Venediktova / Photo from UNIAN
Prosecutor General Iryna Venediktova on Thursday, June 18, has elaborated on the essence of criminal charges pressed against ex-president Petro Poroshenko, who is accused of issuing a wrongful order on appointing first deputy intelligence chief Serhiy Semochko.
Venediktova refused to comment on why the court had not sat to select a measure of restraint in the same criminal proceeding for ex-head of the Foreign Intelligence Service, Yehor Bozhok, as an "accomplice" in the crime, of which Poroshenko's lawyers spoke earlier today, an UNIAN correspondent reported from the prosecutor general's briefing.
Instead, she talked about the essence of charges pressed against Poroshenko, using the Verkhovna Rada structure as an example.
"May Chairman of the Verkhovna Rada Dmytro Razumkov forgive me but I'll give you an example. Imagine we have a chairman of the Verkhovna Rada, we have two of his deputies. And then the chairman of the Verkhovna Rada decides that MP 'Petrenko' can also be his deputy and introduces a third position for that guy 'Petrenko'. How long would you keep letting it slip? The situation is the same here," she said.
Read alsoPoroshenko comments on charges pressed against him
Venediktova added that there are questions to Poroshenko regarding compliance with the procedure – the creation of a position that is not in the staff list, and also that in respect of salary funds, from which UAH 1.5 million was spent.
"But the most important thing is that the person was admitted to the top state secrets," she stressed.
The prosecutor general noted that the report on possible criminal wrongdoing in appointing Serhiy Semochko was filed last week by the new head of Foreign Intelligence Service, who had taken office earlier this month. 
"Last week, a case was opened following the report by the head of the Foreign Intelligence Service," Venediktova told reporters.
As UNIAN reported earlier, Poroshenko is suspected of abuse of office in issuing a wrongful order that prompted head of the Foreign Intelligence Service, Yehor Bozhok, to exceed his official authority.
The case concerns the appointment of Serhiy Semochko, a target of journalistic investigations into enrichment sources and family's Russia ties, to the post of first deputy head of the Foreign Intelligence Service.