facebook.com/urnla
Ihor Novikov, a freelance advisor to Ukrainian President Volodymyr Zelensky, has written a letter of resignation.
"I've decided to keep up with Maksym Bakhmatov [ex-advisor to Kyiv Mayor Vitaliy Klitschko]," Novikov wrote on Facebook on August 5.
Novikov did not disclose reasons behind his step-down.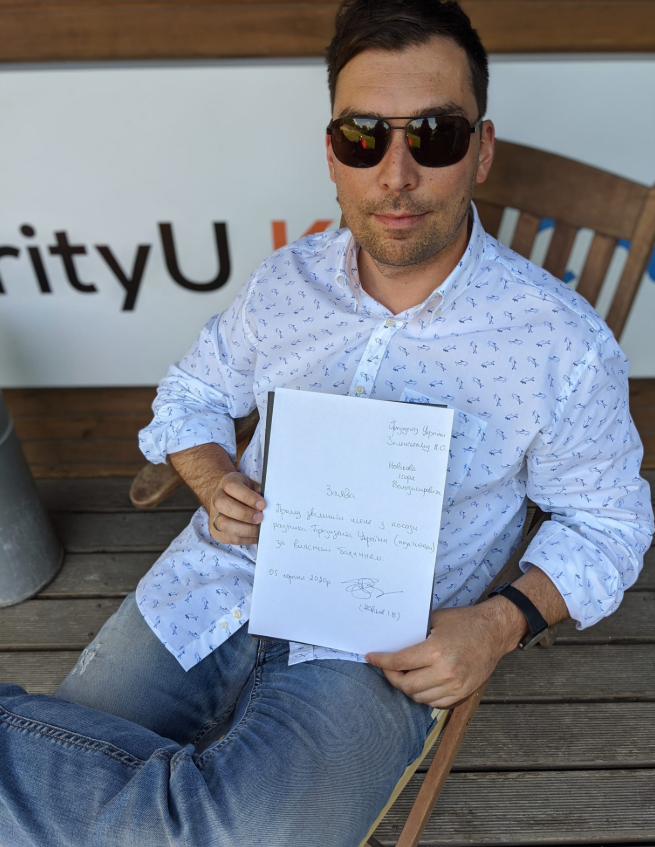 facebook.com/urnla
He attached to the post a photo of himself holding the resignation letter dated August 5.
Novikov came into international spotlight following a Congressional testimony by William Taylor, former charge d'affaires a.i. at the U.S. Embassy in Kyiv. The diplomat described a conversation between Kurt Volker, the then-U.S. Special Representative for Ukraine negotiations, with chief of Ukrainian President's Office Andriy Yermak and Zelensky's aide Ihor Novikov.
Read alsoZelensky makes another reshuffle in intelligence community
Taylor told congressional investigators that after Volker urged the two Ukrainians to steer clear of charging Poroshenko, they had an emotional response, according to The Daily Beast.
"[T]hey responded, take a look at this," Taylor said. Then he said that Yermak and Novikov showed Taylor and Volker pictures on their cellphones "of their relatives—one was a brother, one was a cousin—who had been killed or wounded in the east."
"[T]hey said, Poroshenko is responsible for this," Taylor told investigators.  
Earlier, an advisor to Kyiv Mayor Maksym Bakhmatov said that, together with the Transformation Office, he would withdraw from the Kyiv City State Administration over "political turbulence".
As UNIAN reported earlier, First Prime Minister of Ukraine (1990-1992) Vitold Fokin was tapped to become a new member of the country's delegation to the Trilateral Contact Group on Donbas settlement.