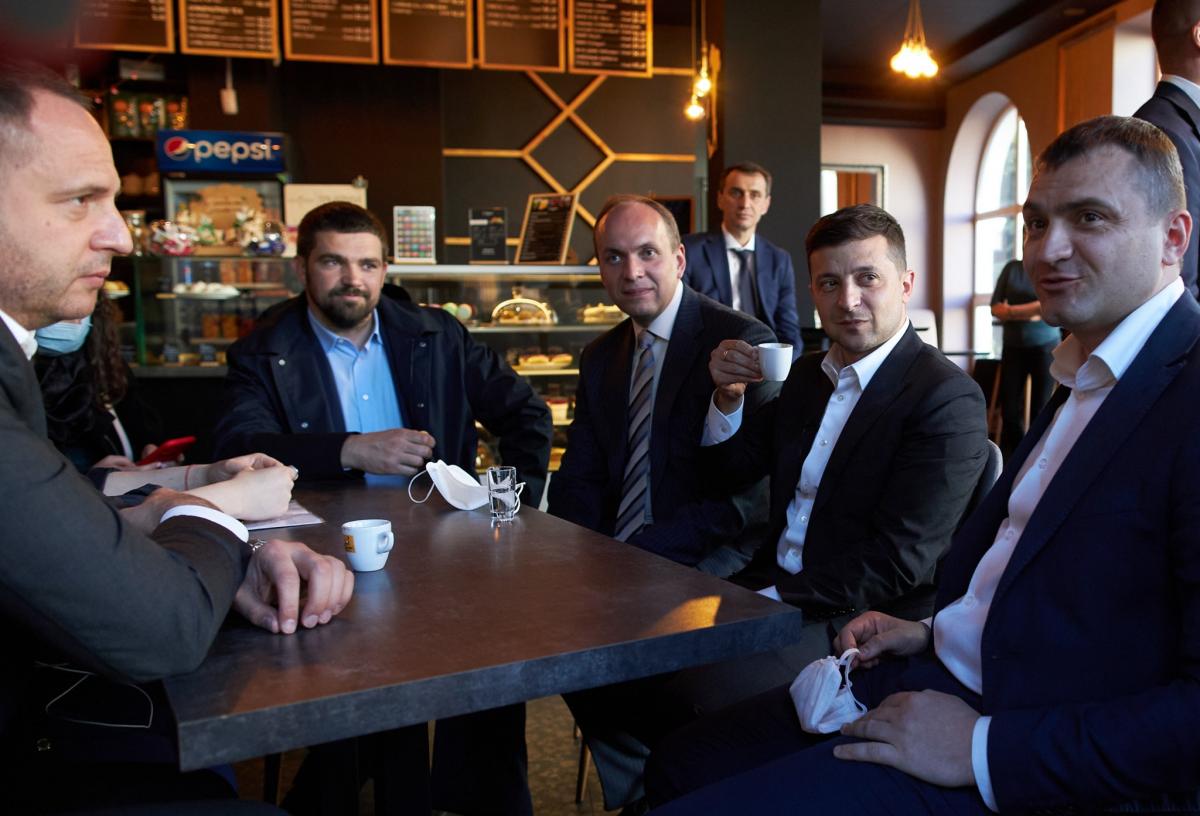 Zelensky not to be fined for cafe visit amid lockdown / facebook.com/president.gov.ua
Litigation against Ukrainian President Volodymyr Zelensky for the violation of COVID-19 lockdown rules while visiting a cafe in the city of Khmelnytsky has been suspended as he enjoys presidential immunity under the Constitution of Ukraine.
The relevant ruling was issued by Khmelnytsky's district court on June 19, 2020.
At the same time, the judges will ask the Supreme Court to clarify whether it is possible to open an administrative case against the president.
Read alsoZelensky fined for visiting cafe amid COVID-19 lockdown
As UNIAN reported earlier, on June 3, the President Office's Telegram channel posted a photo showing Zelensky sitting at one table with other officials, including President's Chief of Staff Andriy Yermak, First Deputy Head of the President's Office Serhiy Trofimov, Khmelnytsky Governor Dmytro Gabinet, and Khmelnytsky Mayor Oleksandr Symchyshyn.
"President Volodymyr Zelensky had a walk around the central part of the city of Khmelnytsky and tried coffee at a local cafe," the president's press service said.
"Nice coffee in Khmelnytsky! Fragrant and delicious! The first cafes are exiting from quarantine, we are rebounding from the coronavirus epidemic," as reported on the president's Instagram account under another similar photo taken in the same cafe.
The government's ban on catering services indoors until June 5 was in effect as of June 3. Only outdoor seating outlets under awnings were allowed to service clients, with no more than four visitors at one table.
On June 4, Deputy Interior Minister Anton Gerashchenko said police would consider the possible violation of quarantine rules by Zelensky and the officials who accompanied him in Khmelnytsky, and bring them to justice.
Later, Zelensky said he was ready to pay a fine if his indoor meeting at the cafe in Khmelnytsky was considered a violation of the quarantine rules.
However, Ukraine's Chief Medical Officer, Deputy Health Minister Viktor Liashko, who sat at another table in the same cafe on that day, said there were no breaches of the quarantine regulations since it was an inspection visit.
On June 10, the National Police of Ukraine said it had drawn up administrative protocols against the officials for the violation of the COVID-19 lockdown rules.