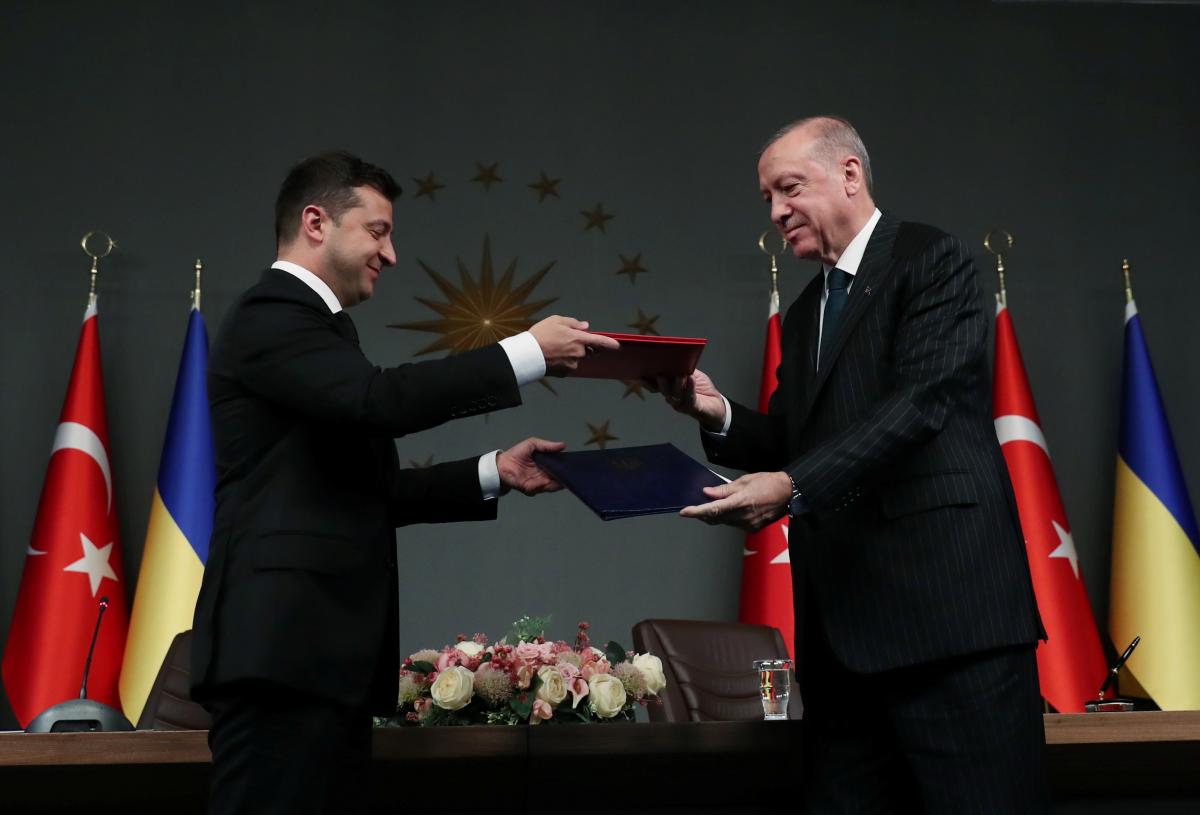 Volodymyr Zelensky and Recep Tayyip Erdogan / REUTERS
Ukraine and the Republic of Turkey have signed a number of bilateral documents in Istanbul.
The documents were signed in the presence of Ukrainian President Volodymyr Zelensky, during a working visit to Turkey, and President of the Republic of Turkey Recep Tayyip Erdogan, as reported by Ukrainian President's Office on its website on October 16.
Read alsoTurkey supports Ukraine's prospects for membership in NATOIn particular, Ukrainian Defense Minister Andriy Taran and President of Defense Industries of the Republic of Turkey İsmail Demir signed a Memorandum of Intent between Ukraine's Defense Ministry and the Presidency of Defense Industries of the Republic of Turkey on the projects in the defense industry.
The memorandum enshrines the desire of Ukraine and Turkey to develop their defense industry programs and strengthen defense capabilities, as well as to establish mutually beneficial long-term cooperation based on mutual respect and consideration of each other's interests. The document outlines the parties' intention to launch and implement joint projects for the construction of warships, UAVs and all types of turbine engines.
Moreover, Taran and Minister of National Defense of the Republic of Turkey Hulusi Akar signed a Framework Military Agreement between Ukraine's Cabinet of Ministers the Government of the Republic of Turkey.
"The agreement is concluded in order to create a legal basis for the expansion and deepening of existing Ukrainian-Turkish cooperation in the field of defense, as well as defines the procedure for such cooperation. The document, in particular, defines the areas of cooperation, its principles, security regime of classified information, the procedure for exchanging intelligence information, legal regulation of the activity of specialists seconded by each party, compensation for possible damages, dispute resolution, etc.," the report said.
In addition, Ukrainian Minister for Development of Economy, Trade and Agriculture Ihor Petrashko and Minister of National Defense of the Republic of Turkey Hulusi Akar signed the Protocol of the 12th meeting of the intergovernmental Ukrainian-Turkish commission on trade and economic cooperation. The protocol fixes the agreements reached by government experts, plans and tasks in the areas of trade, investment, energy, transport and infrastructure, as well as in the field of customs policy.