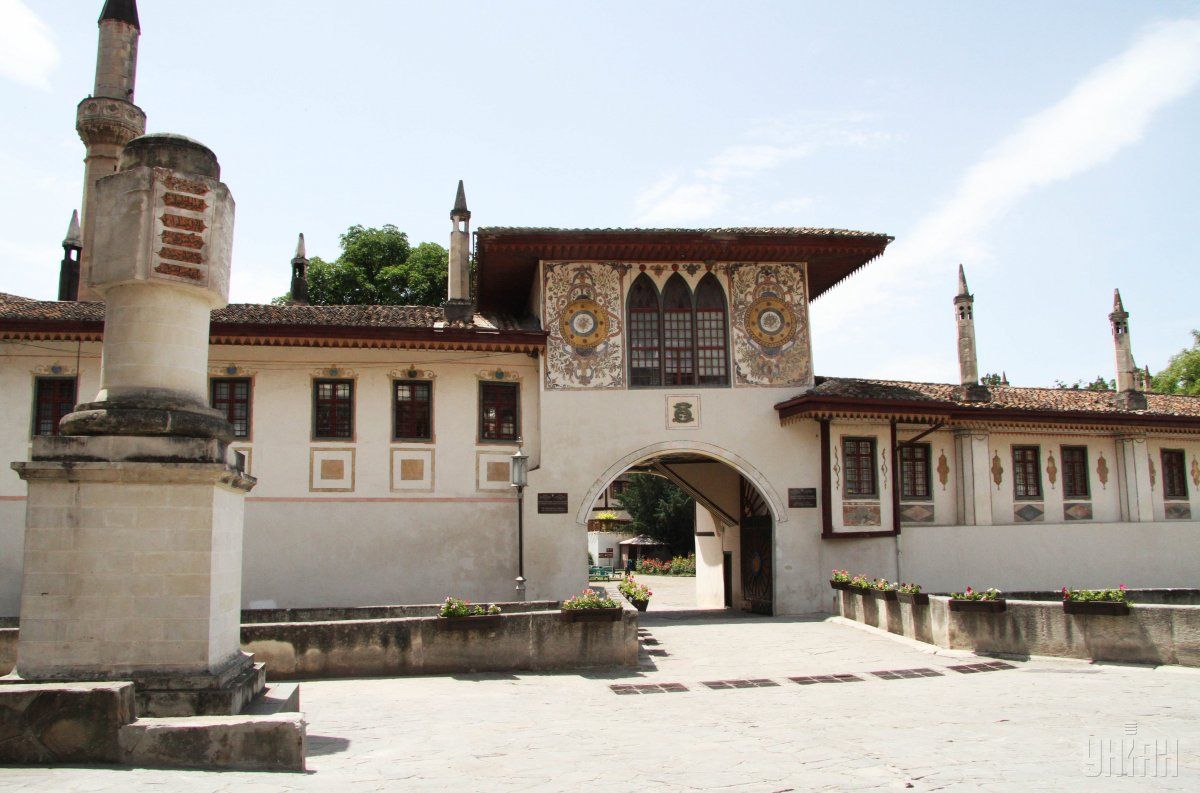 Photo from UNIAN
The enforcers in the Russian-occupied Bakhchisaray have detained a Crimean Tatar woman who staged single-person pickets outside the Khan's Palace holding a poster saying "Hands off the Khan's Palace."
"We have received information that Crimean Tatar Elmaz Akimova who staged single-person picket with a poster saying "Hands off the Khan's Palace" was detained in Bakhchisaray" lawyer Emil Kurbedinov wrote on Facebook.
Read alsoRussia destroying 16th Century Crimean Tatar Khan's Palace in occupied Crimea"Two provocateurs ripped the poster, and now police officers are trying to take the activist to the police station. Civil defenders are going to the scene," he added.
As UNIAN reported, Deputy Chairman of the Mejlis of the Crimea Tatar People Ilmi Umerov earlier said Ukraine should appeal to international organizations for help in the rescue of the world-renowned Khan's Palace in the occupied Crimea from Russia's so-called 'restoration work,' which destroys its identity," according to RFE/RL's Krym-Realii media project.
The Khan's Palace in Bakhchysaray was placed on UNESCO's World Heritage Tentative List back in 2003, but the necessary work for establishing its international status was unfortunately not completed. According to Edem Dudakov, the former head of the Crimean Committee on Inter-Ethnic Relations and Deported Peoples, if the work now underway continues, the complex which includes the Palace itself, a hall for receiving visitors, two mosques, a harem and other buildings, will lose any chance of gaining UNESCO recognition in future.
It is also a major attack by an occupying force on a monument of considerable historical and cultural importance for the Crimean Tatar People and for Ukraine The complex was built as the main residence of the monarchs of the Crimean Khanate - the state of the Crimean Tatar people – and was the political, religious and cultural centre of the Crimean Tatar community until the collapse of the Khanate in 1783.
Restoration work on any building of historical significance needs to be carried out by specialists with maximum use of the same materials and technology. Instead, the work has been passed to a construction firm called Kiramet with no relevant experience.