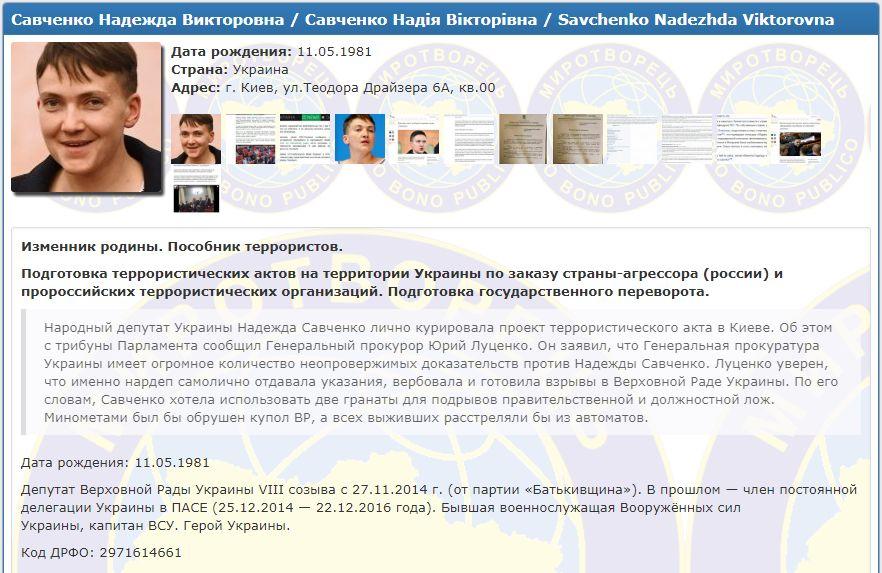 Myrotvorets website
Ukrainian Member of Parliament Nadiia Savchenko, a former pilot and volunteer fighter who was freed from Russian captivity, has been included in Ukraine's Myrotvorets (Peacekeeper) Center database, which lists individuals who pose a threat to the country's security.
The information about her is available in the "Purgatory" section.
Read alsoSavchenko asks to release POW swap organizer Ruban against her guarantees
"A traitor of the country. An accomplice to terrorists. Preparations for terrorist acts in Ukrainian territory on commission from the aggressor country and pro-Russian terrorist organizations. Preparations for a coup d'etat," the website says.
As UNIAN reported earlier, Ukraine's parliament on March 15 expelled independent Member of Parliament Nadiia Savchenko from the Verkhovna Rada's National Security and Defense Committee.
In addition, Ukrainian Prosecutor General Yuriy Lutsenko said investigators had clear evidence that Savchenko had personally given instructions on how to prepare a terrorist attack on Ukraine's parliament. Later, he submitted a motion to the Verkhovna Rada for the arrest of Savchenko.
The issue of stripping her of parliamentarian immunity is on the parliament's agenda on March 22.