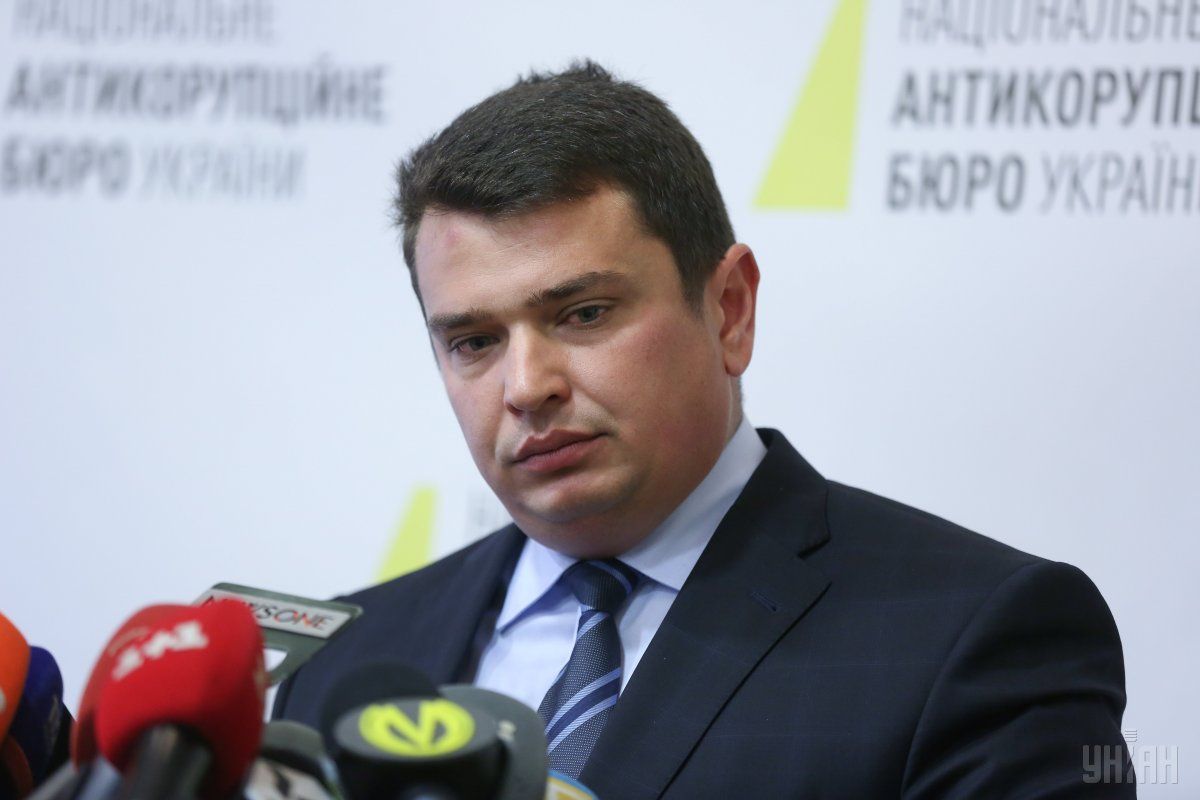 Photo from UNIAN
The National Anti-Corruption Bureau of Ukraine (NABU) is not yet seeing any concrete facts pointing at violations of law in conversations with "Petro Poroshenko" allegedly recorded secretly by a fugitive MP Oleksandr Onyshchenko, the agency chief, Artem Sytnyk, told a Kyiv briefing Wednesday.
"We expect that Mr. Onyshchenko will elaborate on at least one case, along the lines of 'I gave this or that deputy this much for [his vote for] this or that law' so that this could be verified," says the Bureau director, according to Ukrayinska Pravda.
According to Sytnyk, now detectives are in back and forth contact with Onyshchenko via mail, trying to get this information, but so far without result.
Sytnyk said that Onyshchenko has long been making such "loud statements," and even a criminal case has been launched into them that is still being investigated, but the deputy has so far failed to provide neither specific information nor tapes with records of conversations in question.
"There have been statements about bribery of deputies, lobbying of laws and plenty of other things, but these statements were of a general nature, without specific names, locations where money was handed over, and without references to the equipment used," said the NABU director.
Read alsoUPDATE: NABU charges against Kholodnytsky backed by records from planted bugAccording to the anti-corruption watchdog's chief, Onyshchenko has been questioned but he never uncovered any details of his allegations.
"We put forward proposals to have these tapes handed over to us but there's nothing," Sytnyk said.
He noted that this time, the MP is once again not providing the recordings to the investigation. "In order to establish the authenticity of tapes, if they even exist, these tapes Onyshchenko should hand them over, in a procedurally correct manner, for the examination. So far, we haven't heard his consent to that in any legal way," said Sytnyk.
He believes that Onyshchenko's tactic is to make loud statements and not to confirm them in any way at all. "When it comes to specifics, he starts his game. I don't know if he's aware of that but he is also part [of those recordings]. And we can't be sure that, if Onyshchenko comes, the recordings or the recording device will also be there on him," the NABU chief said.
Read alsoFugitive MP Onyshchenko claims he secretly recorded talks with Poroshenko: Administration calls out report as fakeAs UNIAN reported earlier, a fugitive MP Oleksandr Onyshchenko unveiled part of the recording of the conversation he allegedly had with President Petro Poroshenko. A male voice resembling that of the president is heard discussing with Onyshchenko agreements with ex-minister of ecology Mykola Zlochevsky regarding the closure of criminal cases against the latter and also talking business. The dialogue is conducted in Russian. The presidential administration dismissed the recordings as "fake."
Read alsoOnyshchenko ready to hand over original recordings with "Poroshenko" voice to NABU for verificationA month ago, the deputy stated that he had at least one record of the conversation, where the president threatened him with criminal cases, "if somebody fails to vote for his legislation."