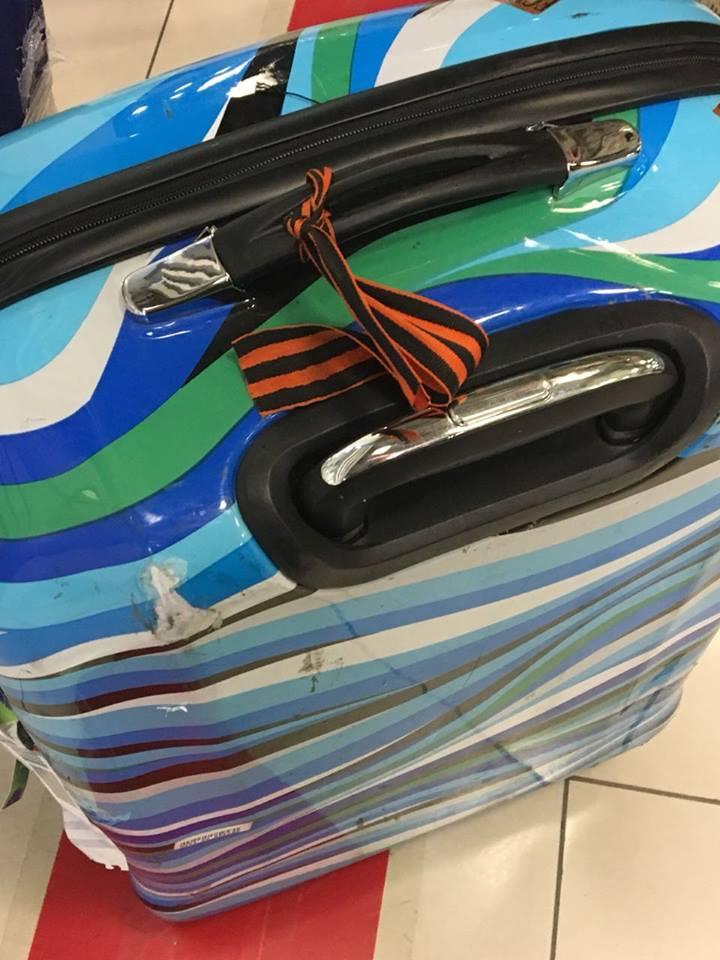 The Russians refused to remove the ribbon / Photo from facebook.com/oleh.slobodyan
Two Russian citizens – a man and a woman – have been refused entry into Ukraine and sent back to Minsk, Belarus, over a controversial St. George ribbon.
The incident happened at Kyiv's Boryspil Airport on the evening of May 3, spokesman for Ukraine's State Border Guard Service Oleh Slobodyan has said.
Read alsoRussian-led militants rehearse Victory Day parade in occupied Donetsk (Photo)
"Both arrived on a private visit, with enough money to stay in Ukraine and having return tickets. But St. George ribbons that are outlawed in Ukraine were attached to the tourists' luggage," he wrote on Facebook.
The two declined the border guards' instruction to remove the ribbons that are considered to be a symbol of Russian aggression against Ukraine.
"In this connection, the border guards did not let these individuals cross the border and they took a return flight to Minsk," he said.
There are no direct flights between Ukraine and Russia, therefore the capital of Belarus, Minsk, is used as a transit destination for those travelling between the two countries.
The St. George ribbon, which is a reference to the Order of Saint George (Russian Empire's highest combat award), was widely used in Russia to informally symbolize the victory over the Nazis in World War II. However, following the Maidan events in 2014, the Revolution of Dignity of Ukraine, this symbol was widely used by counterrevolution forces and subsequently by Russian-led troops fighting against the Ukrainian army in eastern Ukraine.
Ukraine's parliament in May 2017 passed a law banning the use of the St. George ribbon in Ukraine.