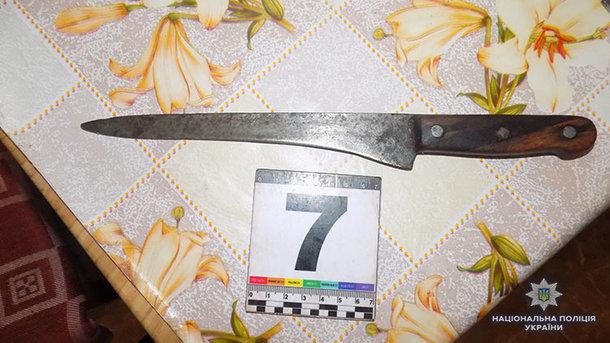 Photo from the National Police
A former veteran of the Anti-Terrorist Operation (ATO) in Donbas, eastern Ukraine, has been stabbed to death in the city of Korosten in Zhytomyr region.
Head of Public Relations Office at the Main Directorate of the National Police in Zhytomyr region Alla Vashchenko says that the police was information about the tragedy in the evening on May 9.
Read alsoFather of female attacker on Donbas war veteran works for Ukraine's Defense Ministry – media
It became known that as a result of conflict, a 61-year-old man, repeatedly stabbed his son, which died from injuries in Korosten on May 9.
The father of the victim was not detained, as he pleaded guilty and did not run away.
As reported, the veteran was heavily abusing alcohol after returning from the ATO area.
The law enforcers began criminal proceedings under Art. 115 (deliberate murder) of the Criminal Code of Ukraine.
The investigation in under way.
As UNIAN reported earlier, a group of three young men and two young women wearing masks attempted to stab Dmytro Verbych, a Donbas war veteran and an ex-'Cyborg,' a nickname given to Ukrainian soldiers who defended Donetsk airport.
The incident happened in Kyiv's Podil area on May 2.
Criminal proceedings were opened under Part 4 of Article 296 of the Criminal Code of Ukraine. The persons involved in the attack face up to seven years of imprisonment.
On May 6, the SBU detained the young people in Kharkiv. One of them had a Russian passport issued to the name of Viacheslav Lukichev, born in 1994.
On May 7, the SBU established that the organizer of the crime was a Russian citizen.