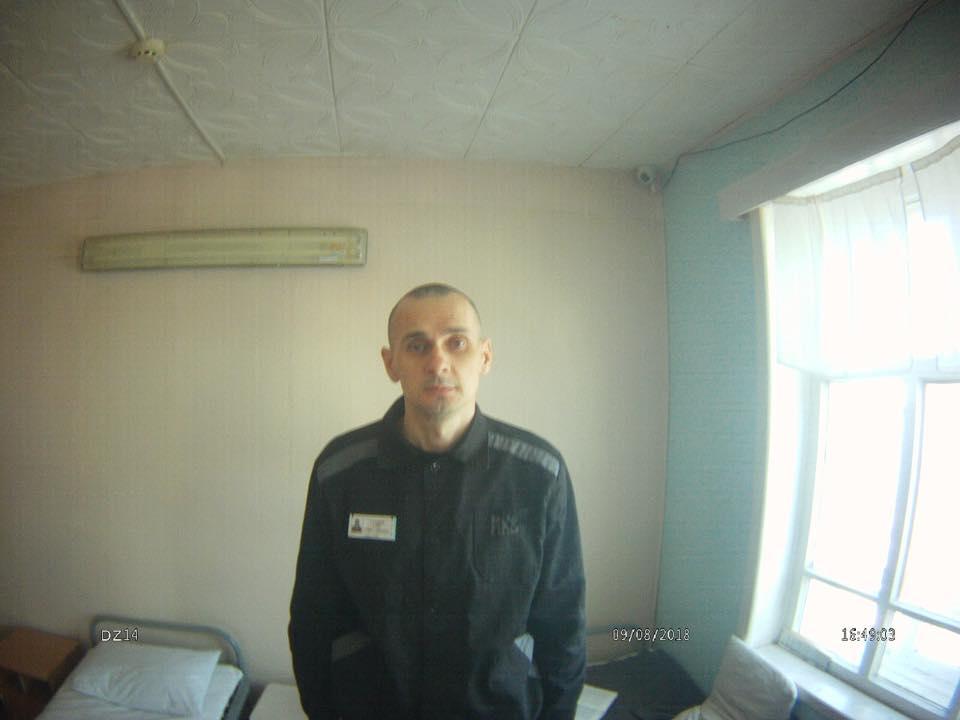 The photos were provided by Russian ombudswoman Moskalkova / Photo from facebook.com/denisovaombudsman
Ukrainian Parliament's Commissioner for Human Rights Liudmyla Denisova has shared latest photos of illegally convicted Ukrainian film director Oleh Sentsov, who has been on hunger strike in a Russian penal colony since May 14.
Denisova posted the three images on Facebook on Thursday evening, saying that the pictures were provided by her Russian counterpart Tatiana Moskalkova.
"The photos of Oleh Sentsov have just been provided by the Russian Federation's commissioner. As she was told, Oleh is active, comes to watch TV, reads books, writes something from time to time. All, I quote, are surprised how he keeps up, his condition is satisfactory," Denisova said.
"When asked if I could publish the photos, they told me when they asked [Oleh] about permission to take the photos, Oleh [agreed as he] is aware that people are worried about him," the ombudsman added.
Photo from facebook.com/denisovaombudsman
Photo from facebook.com/denisovaombudsman
Ukrainian film director Oleh Sentsov, who was illegally imprisoned in Russia, began a hunger strike on May 14, 2018, in protest against the politically motivated jailing of dozens of Ukrainians in the Russian Federation.
Read alsoUkrainian film director Sentsov on hunger strike in Russian prison: "Not going to stop"
Sentsov was arrested in Russian-occupied Crimea in spring 2014 and in August 2015 he was sentenced to 20 years in prison following an unfair trial where he faced "terrorism" charges stemming from his opposition to Russia's occupation of Crimea.
He has been serving his term in a penal colony in the town of Labytnangi, Russia's Yamal.
Sentsov's cousin, Moscow-based journalist Natalya Kaplan says his condition is critical and things are "catastrophically bad."