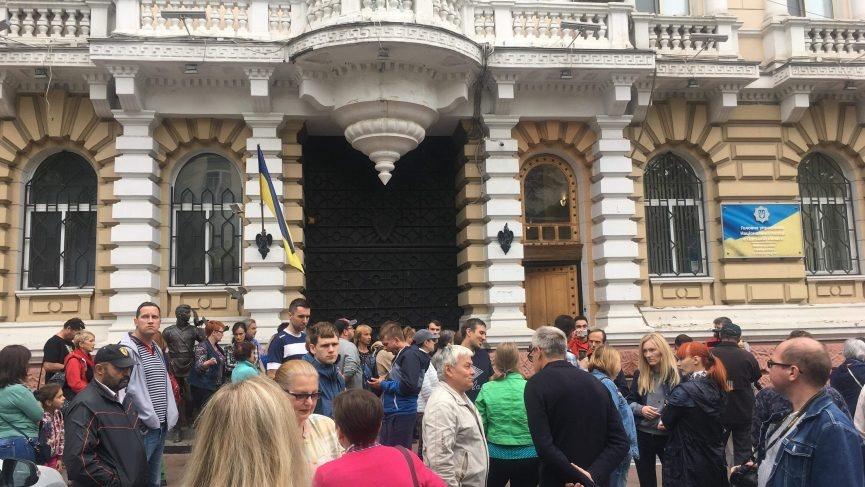 http://7kanal.com.ua/
Odesa citizens have taken to the streets to protest against the attack on a public activist, leader of the city organization of the party Syla Lyudei (Power of the People) Oleh Mykhailyk.
Local activists, Mykhailyk's party members, and concerned citizens rallied outside the building of the National Police's Odesa Main Department on Sunday, according to Hromadske media outlet.
Read alsoPublic activist survives assassination attempt in Odesa
They demand the resignation of chiefs of the police and prosecutor's office in the region, as well as require that law enforcers to effectively investigate attacks on activists and name their instigators and performers.
Activists demanded that Local Police Department chief Dmytro Holovyn come to them, but his deputies said he was absent.
Chairman of the Odesa organization of Syla Lyudei party Ihor Bychkov associates the attack with Mykhailyk's activities.
"This is definitely related to Oleh's position. He spoke very unpleasant things for city authorities. He also spoke out against the law enforcers. Probably, Oleh was out of favor with the authorities and they have done this," Bychkov said, adding that other attacks on activists were aimed at their intimidating, but now they tried to kill Mykhailyk.
As was earlier reported, a perpetrator shot at Mykhailyk on Osipov Street in Odesa in the evening of September 22. He was rushed to hospital in grave condition.
The police chief said the investigators consider several possible versions of this crime, including those related to Mykhailyk's public and journalistic activities.
Syla Lyudei party says the Odesa local authorities are behind the attack on its member.
As of the morning of September 23, Mykhailyk regained consciousness. The doctors plan to extract the bullet after his condition will be stabilized.
The public activist was given security.
The SBU Security Service of Ukraine is involved in the investigation of the incident.