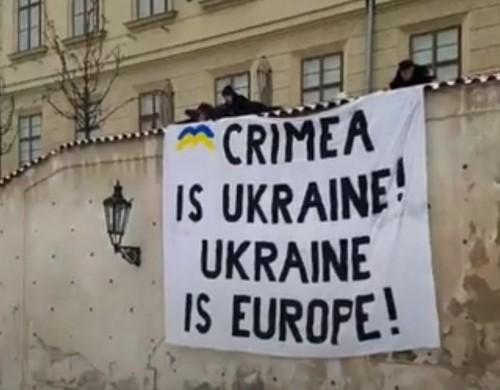 twitter.com/YPerebyinis
Ukraine's Ambassador to the Czech Republic Yevhen Perebyinis says Czech activists have held a rally in various parts of Prague in support of Ukraine.
Read alsoU.S. Senate passes resolution condemning Russian aggression against Ukraine
The rally was held in connection with a recent Russian attack on three Ukrainian boats in the Black Sea near the Kerch Strait on November 25. The activists hung out a Ukrainian flag and a banner saying "Crimea is Ukraine! Ukraine is Europe!" the Ambassador wrote on Tweeter.
Noteworthy, about 20 people, replacing each other, held single-person pickets, outside the building of the Russian Presidential Administration on Saturday, December 1. They demanded that the Russian authorities release the Ukrainian sailors captured near the Kerch Strait and stop the war with Ukraine.
As UNIAN reported, three Ukrainian vessels were captured on November 25 by Russian forces at sea near the Kerch Strait, which is the only outlet to the Sea of Azov and controls access to two major Ukrainian ports. The two Ukrainian artillery boats and a tugboat were heading from Odesa on the Black Sea to Mariupol on the Sea of Azov. Twenty-four sailors were detained and "courts" in Russian-occupied Crimea ruled that they be detained for two months, pending trial.
twitter.com/YPerebyinis