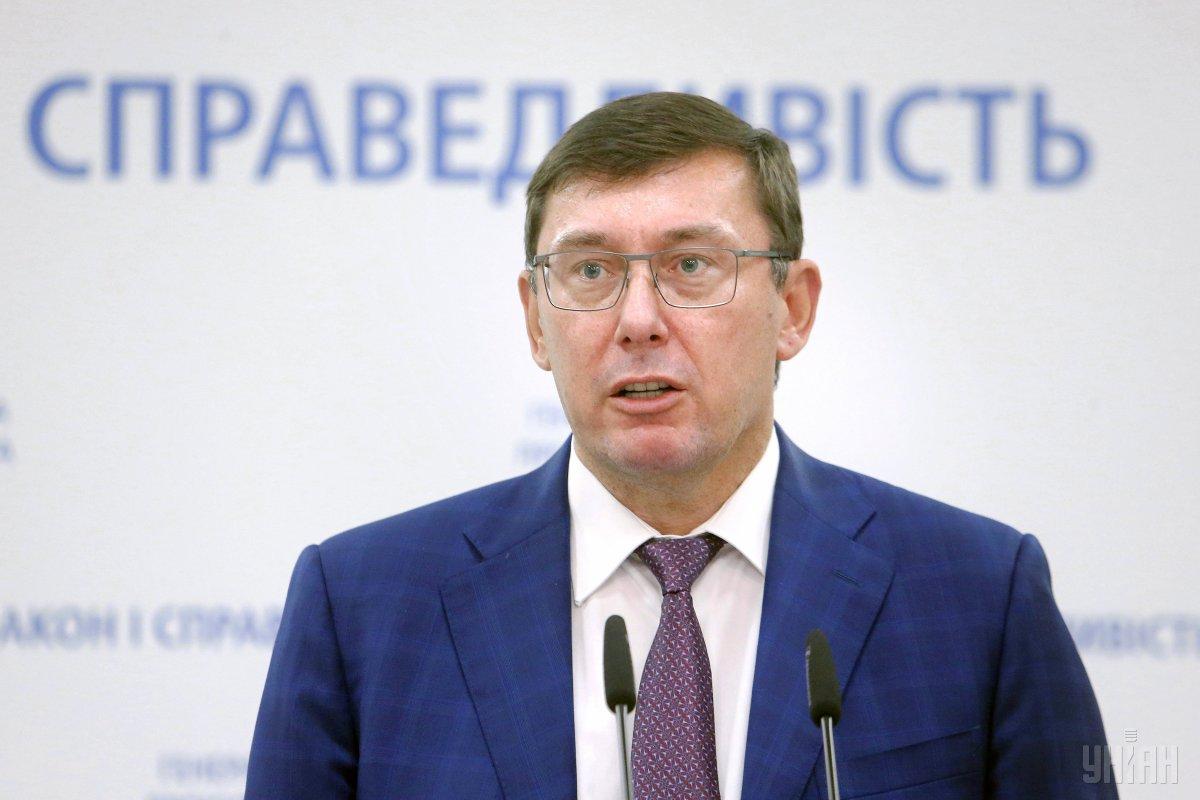 Photo from UNIAN
Ukrainian Prosecutor General Yuriy Lutsenko has named a key figure in organizing a deadly acid attack on Kherson activist Kateryna Handziuk, having disclosed only his second name.
"Another very important indictment has been brought against citizen Levin, who is known in the criminal world aka Moskal Jr. This man was [earlier] convicted along with his father. His father was sentenced to life imprisonment. And the son was sentenced to 15 years for organizing murders and attacks on drivers in Kherson region. The total number of proven killings was 15 people," Lutsenko said at a meeting of law enforcement chiefs in Odesa, an UNIAN correspondent reported.
The prosecutor general added that Levin had been set free on parole under the so-called Savchenko Law," "but we suspect this was not justified."
Read alsoHandziuk murder: Kherson regional council claim chief on vacation, refuting allegations of "fleeing justice"
The Savchenko Law, developed by MP Nadiia Savchenko, provided that one day of pretrial detention had to be counted as two days of imprisonment. Later this rule was abolished in June 2017.
Lutsenko noted that Levin, according to investigators, is a key figure in organizing the acid attack.
As for the mastermind behind the assassination, the prosecutor general said the investigation had many theories, but most of them came down to specific individuals, however he promised to disclose their identities when the indictment was ready. "At the moment, the news is that another side of the attack on Handziuk was citizen Levin, in addition to the organizer who has already been indicted," Lutsenko said.
According to him, Levin fled Ukraine on the day when the detentions in the Handziuk case began, and now measures are being taken to detain him abroad.
However, he assured the absence of Levin in Ukraine would not affect the investigation, "which is close to provide legal grounds to convict the customer." Lutsenko also said the investigation had agreed on the key theory: "We see a motive that links both an assistant to an MP and a criminal boss, thus we see the one who ordered [the assassination]."
Lutsenko promised to disclose the identity of the mastermind behind the assassination as soon as the investigators had enough evidence.
As UNIAN reported earlier, Kherson activist, adviser to the Mayor of Kherson and acting manager of affairs at Kherson City Council's executive committee Kateryna Handziuk on July 31 survived an act of acid throwing. Handziuk's injury was over 30% of the total body surface area, and doctors assessed her condition as serious.
She was transferred to a Kyiv hospital, where she died on November 4 after long treatment. She reportedly died of a blood clot.
Police originally qualified the attack on the official as an attempted murder committed with extreme cruelty, then its status was changed to completed murder.
Six suspects were detained, one of whom, Mykola Novikov, was later released from custody as charges against him were dropped.
Three suspects – Vyacheslav Vishnevsky, Volodymyr Vasyanovych, and Viktor Horbunov – are now under house arrest.
The alleged organizer of the assassination, Serhiy Torbin, remains in custody. His arrest has recently been extended until December 3. Mykyta Hrabchuk, another suspect in the case, is also under arrest.
On November 5, the media reported that Torbin had allegedly received money for the attack on Handziuk from Ihor Pavlovsky, an assistant to Member of Parliament from the Petro Poroshenko Bloc parliamentary faction Mykola Palamarchuk.
Palamarchuk in turn dismissed any accusations of his possible involvement in the assassination attempt on the activist. He also said he had dismissed Pavlovsky.
On November 12, a court detained Pavlovsky until December 3. According to the SBU Security Service, he is suspected of complicity in the Handziuk murder.
Lutsenko announced on December 3 that the investigators had identified all the individuals who had ordered the assassination.