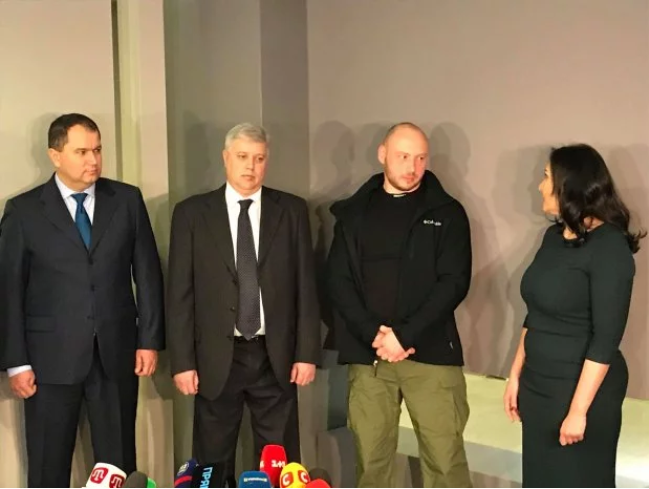 TV Channel 24
Ukrainian sailor Andriy Novichkov, who was facing a death penalty in Iran for allegedly killing a Muslim crewman, has safely returned to Ukraine on Thursday, Jan 10.
Novichkov was swapped for an Iranian national, Ali Jaduel, who was sentenced for espionage in Ukraine, the TV news service TSN reported.
Ukrainian President Petro Poroshenko pardoned the Iranian by his decree.
According to foreign intelligence officials, Ali Jaduel returned to Iran at midnight Wednesday, Jan 9. The Ukrainian sailor, who briefly spoke with journalists upon his arrival in the Boryspil Airport in the early hours of Thursday, declined to elaborate on the details of his exchange.
The press release by Ukraine's intelligence agency says: "At the order of President of Ukraine, Petro Poroshenko, during the entire time while Andriy Novichkov was remanded in custody, Ukrainian intelligence officers in cooperation with the Foreign Ministry and the Embassy of Ukraine in Iran had been taking necessary measures to protect and release the Ukrainian sailor. Foreign Intelligence Service chief Yehor Bozhok personally participated in the negotiation process."
Novichkov, who was senior assistant captain of the Arezoo vessel, was accused in Iran of murdering an Iranian sailor from his crew. In defense, he claimed that the Iranian sailor had jumped overboard the ship in a suicide move.
Now Novichkov is going to the city of Odesa where his grandmother is waiting for him.
"First, I'll go home, and then we'll see," he answered when asked what he would do next, according to TV Channel 24.
Read alsoRussia to exploit issue of captive Ukrainian sailors, political prisoners release in context of Ukraine elections – Klimkin
On January 8, it became known that Novichkov had been released. He has stayed at the Ukrainian Embassy in Iran since then.
As was earlier reported, the sailor, who is an Odesa native, left Ukraine in November 2016 after he signed a contract to become a senior assistant captain on the Iranian ship Arezoo. Novichkov boarded the vessel near Shanghai.
Ordinary seaman Mohammad Bahranpoor, who was a citizen of Iran, jumped overboard the ship Arezoo (the flag of Iran, home port Qeshm) on January 17, 2017, while Novichkov was an eyewitness of the incident. He immediately organized a rescue operation. The seaman's body was never found. After the vessel checked in an Iran port, Novichkov was taken to court on charges of murder.
In the autumn of 2017, Novichkov went on a hunger strike, and on the 11th day he was released from custody under the personal obligation of the consul.
Read alsoUkraine lodges lawsuit against Russia with ECHR over captive Ukrainian sailors
However, he was banned from leaving Iran pending investigation. According to the Ukrainian sailor, after his release from custody, he has stayed in the office of an Iranian travel company, thanks to the personal contacts of the Ukrainian consul.
Meanwhile, his case was reclassified from negligent homicide to premeditated murder. The Ukrainian sailor was facing death by hanging. However, the investigation found no sufficient evidence to seal charges.
Ali Jaduel was sentenced to 11 years in prison in Ukraine for spying for the Islamic Republic of Iran. In 2005, he had entered Kharkiv Aviation Institute, majoring in biomedical engineering, and after graduation he continued his studies as a PhD student. Ukrainian investigators said that in the summer of 2016, Jaduel persuaded a friend from the scientific center of Kharkiv Institute of Physics and Technology to sell secret military radio intelligence technologies for five thousand hryvnias. Despite denying accusations, the Iranian was convicted.