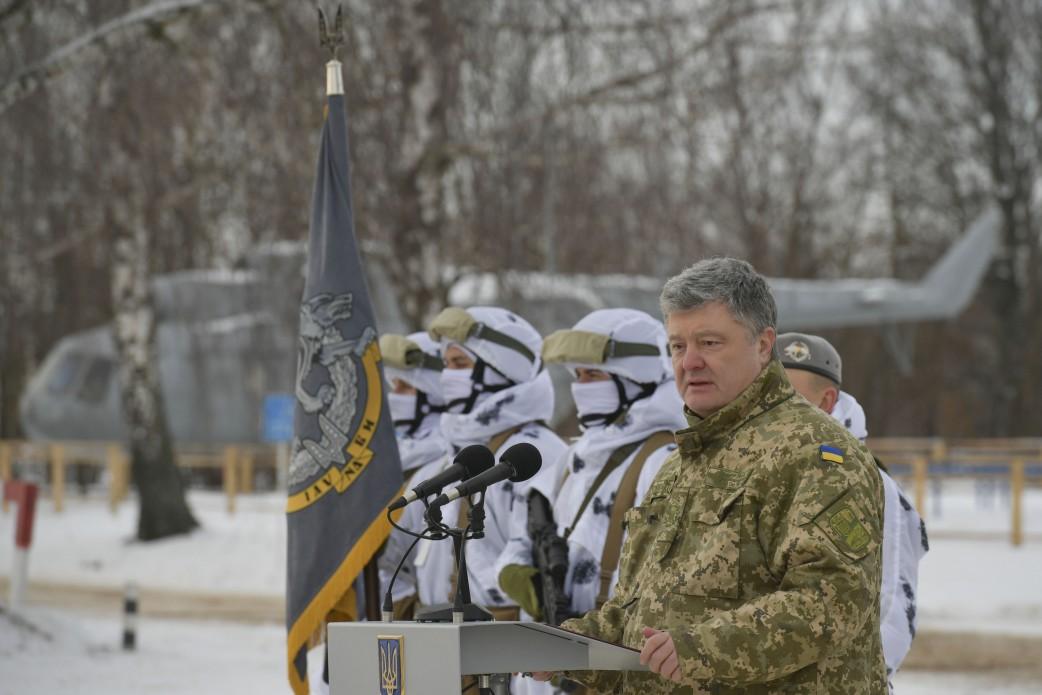 president.gov.ua
Ukraine's Army is building up its combat potential on a daily basis, while special operations forces receive new and upgraded weapons, military equipment, and military communication means, Ukrainian President Petro Poroshenko said, addressing the spec-op troops during his working visit to Zhytomyr region.
The Head of State noted the spec-op forces' high professionalism, heroism, and invincibility in combat, in the most dangerous and complex conditions, including in the enemy rear.
He noted that the units completed over 3,000 thousand combat missions, including 700 "special actions" that are "classified, for obvious reasons."
Poroshenko said 70 spec-op troops were killed in action.
Addressing the troops, Petro Poroshenko expressed gratitude for their "courage and stability, speed and resolute force."
Read alsoAnti-sabotage drills: Ukrainian spec-op troops penetrated country's biggest ammo depots - journalist
"On behalf of the Ukrainian people and myself, I express sincere gratitude to the entire staff of the Special Operations Forces of the Armed Forces of Ukraine for the loyalty to the military duty and oath," the head of state added.
As UNIAN reported earlier, Ukraine's Ground Forces will soon be getting a massive shipment of sniper rifles from Canada.
PGW Defence Technologies, based in Winnipeg, Manitoba, has been contracted to supply Ukrainian snipers with anti-materiel rifles in a deal valued at over USD $770,000, according to Military Times.
The rifle in question is none other than PGW's flagship heavy-caliber rifle, the LRT-3 Sniper Weapon System.