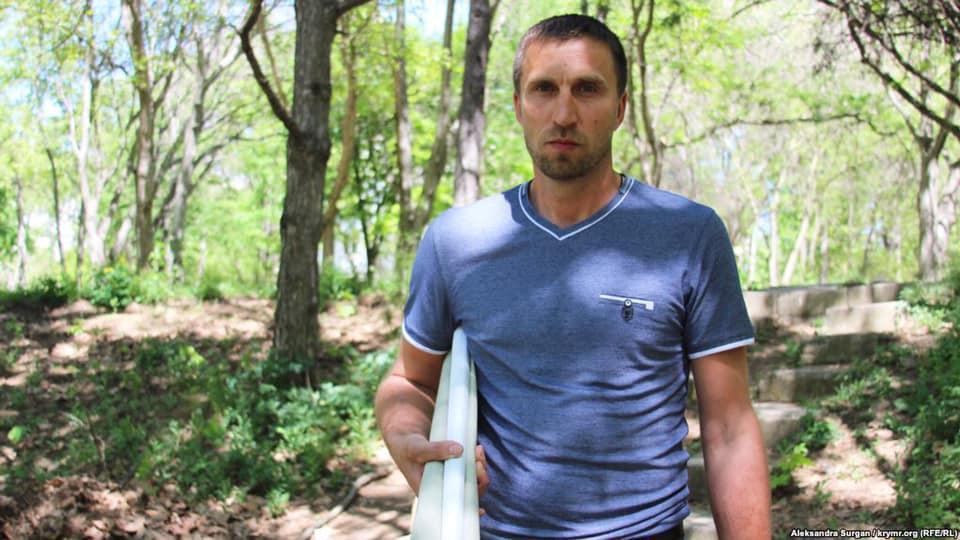 Rolan Osmanov / Photo from Krym.Realii
Russia's Federal Security Service (FSB) on April 30 conducted new raids on Crimean Tatar activists' houses in Russia-occupied Crimea.
"06:15 a.m. local time. According to Deputy Chairman of the Mejlis [of the Crimean Tatar people] Nariman Dzhelyal, a raid took place at Crimean Tatar activist Rolan Osmanov's house. 06:30 a.m. Investigative activities in the house of another Crimean Tatar Dilyaver Bekirov, who lives on Zahorska Street in the village of Maliovnyche, were reported," the Crimean Solidarity community said on Facebook on April 30.
Later, it informed that the raids were over and the activists were not detained. The FSB reportedly told Osmanov that they had been searching for drugs.
Read alsoPolice detain Crimean Tatar woman staging single-person pickets near Khan's Palace in Bakhchisaray
In April 2018, Osmanov staged a one-person picket in defense of the Khan's Palace in the Russia-occupied town of Bakhchisaray. He held a poster saying, "Stop destroying Crimean Tatars' history under the guise of restoration!"
Osmanov lives on Yuvileina Street in the village of Urozhaine, Simferopol district. He is married, with two children, the youngest is six months old. His mother lives together with the family.
Dzhelyal also reported that the FBS had searched the house of Dilyaver Bekirov's son, Ruslan, 36, in the Russia-occupied city of Simferopol. The search was also conducted early in the morning. The FSB said they had found "documents calling for separatism" in the garage and "unknown powder in a bottle in one of the rooms." Ruslan Bekirov, who was reportedly not involved in any political and public activity, was brought to the police station in Simferopol's Kyivsky district, where he underwent drug testing and later released. He was told to remain in Simferopol until May 5 when the results of the tests are ready.
His lawyer Emine Avamileva said there were violations during the raids on the houses of Ruslan Bekirov, Dilyaver Bekirov, and Rolan Osmanov.
As UNIAN reported earlier, large-scale searches in Russia-occupied Crimea were previously reported early on March 27 when the FSB raided at least 25 houses of Crimean Tatars. Detainees were brought to Simferopol.