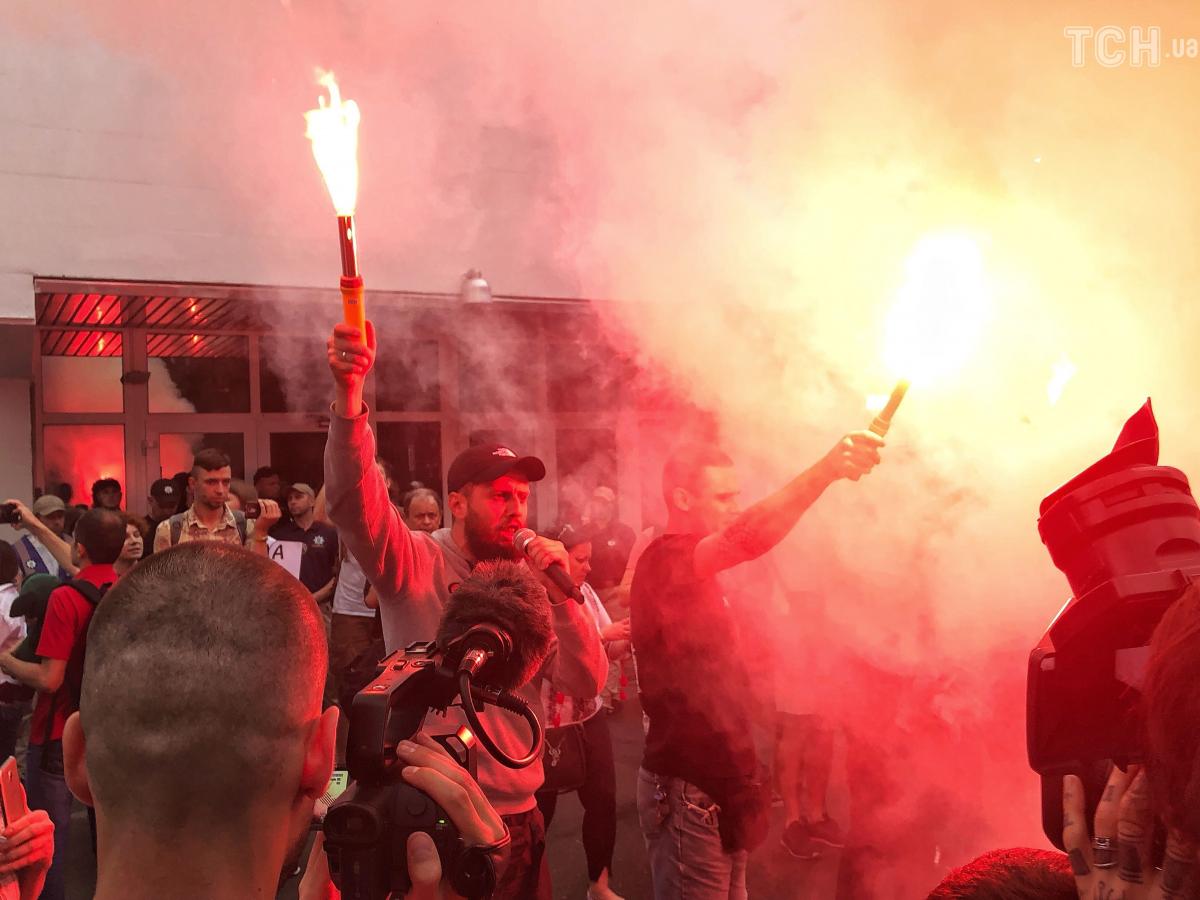 A rally in Pereyaslav-Khmelnytsky, Kyiv region / Photo from TSN.ua
The death of a five-year-old boy who was shot dead reportedly by two police officers in Pereyaslav-Khmelnytsky, Kyiv region, last week has sparked protests across Ukraine, demanding the punishment of the accused and Ukrainian Interior Minister Arsen Avakov's resignation.
Activists gathered outside the Interior Ministry's building in Kyiv on June 4; they demanded Avakov step down over the death of Kyrylo Tliavov, according to the Ukrayinska Pravda online newspaper.
As NGO Anticorruption Action Center said on Twitter, similar rallies were held under the slogan "Impunity Kills" in other major cities of Ukraine, in particular in Kherson, Pereyaslav-Khmelnytsky,  Chernivtsi, Lutsk, Rivne, Kropyvnytsky, Ternopil, Vinnytsa, Dnipro, Lviv, Zhytomyr, Uzhgorod, and Mykolaiv.
Pereyaslav-Khmelnytsky became the hottest spot after hundred protesters surrounded the entrance to the regional police's office, lighting flares and smoke pellets and demanding the resignation of senior police officers. Protesters inscribed the word "Killers" with paint on the wall of the office. They also put stuffed animals on the ground near the police officers who cordoned off the building.
Involvement of two police officers – Ivan Prykhodko and Volodymyr Petrovets, who were drunkenly firing weapons at cans and bottles near the place where children were playing in the yard, is being investigated by the State Bureau of Investigation. On June 4, the two were remanded in custody for 60 days without bail. They are facing life imprisonment.
Meanwhile, Minister Avakov and Chief of the National Police Serhiy Knyazev met with the killed boy's mother, Tetiana Tliavova, and his grandmother.
Avakov and Knyazev meet with the victim's family / Photo from mvs.gov.ua
The two senior officials expressed condolences to the killed boy's family. Knyazev also said that the staff of the General Directorate of the National Police in Kyiv region would transfer their one-day salary to the victim's family.
The mother asked for psychological help for the eldest son, Denys Tliavov. The National Police will send psychologists specializing in working with people who have lost their loved one.
Knyazev apologized to the victim's relatives on behalf of the National Police and assured that the department would provide all the necessary assistance to the investigation.
What is more, the National Police will cover all funeral costs.