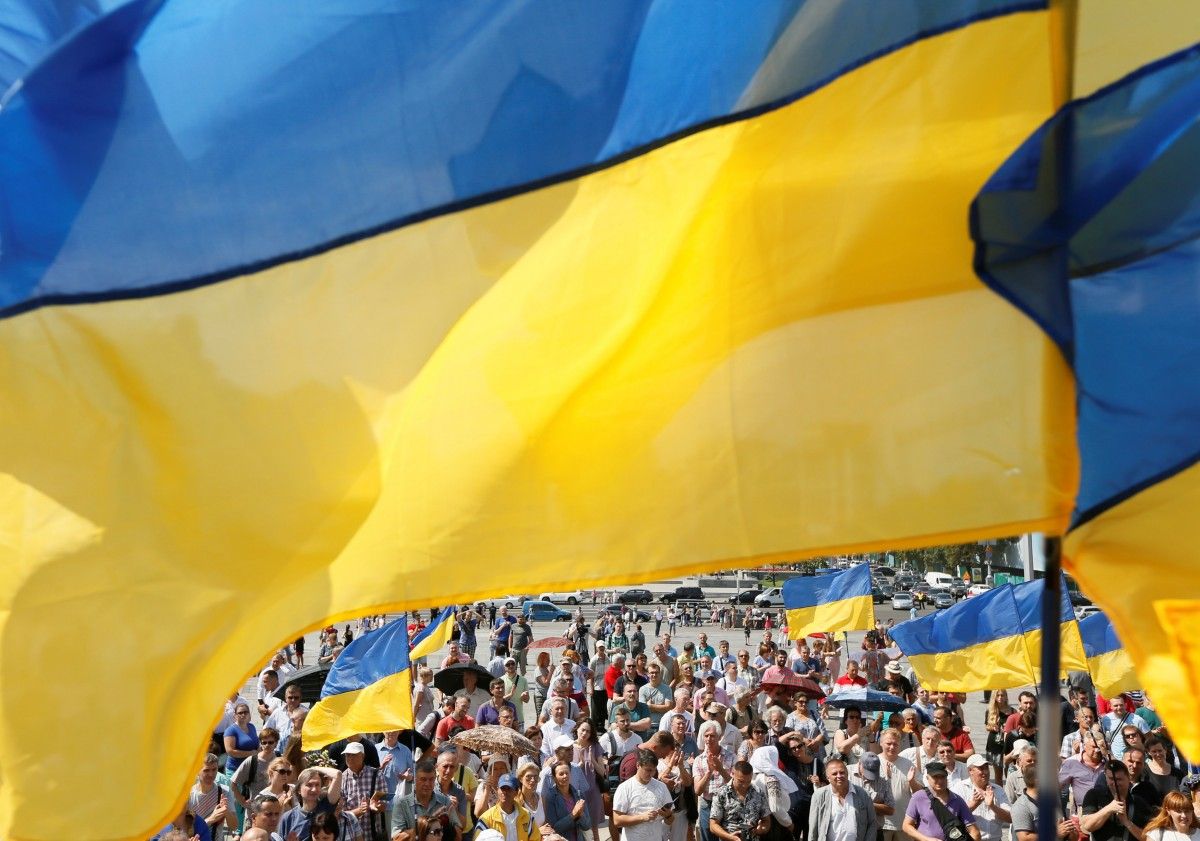 REUTERS
Voters of Ukraine's four political parties that have every chance to be elected to the new Verkhovna Rada, Ukraine's parliament, generally support Ukraine's accession to the European Union.
That's according to a nationwide survey by Ilko Kucheriv Democratic Initiatives Foundation and the Oleksandr Razumkov Ukrainian Center for Economic and Political Studies.
Sociologists say voters of Vyacheslav Vakarchuk's Holos (Voice) Party (86%), Petro Poroshenko's European Solidarity (85%), Dmytro Razumkov's Servant of the People Party (62%), and Yulia Tymoshenko's Batkivshchyna Party (59%) believe that Ukraine should join the European Union. However, voters of the pro-Russian Opposition Platform – Za Zhyttya (For Life) Party prefer either joining the Eurasian Economic Union with Russia, Belarus and Kazakhstan (39%), or non-alignment with either the European or the Eurasian unions (44%).
Read alsoFresh poll: Half of Ukrainians satisfied with President Zelensky's work
Voters supporting European Solidarity (80%), Holos (75%), Servant of the People (47%), and Batkivshchyna (47%) say NATO membership would be the best security option for Ukraine. Voters of Opposition Platform – Za Zhyttya prefer either non-aligned status (50%) or a military alliance with Russia and other CIS countries (25%).
At the same time, voters of European Solidarity (58%) and Holos (48.5%) consider it unacceptable to hold direct talks with the "leaders" of the self-proclaimed "Donetsk and Luhansk People's Republics" ("DPR" and "LPR"). However, 44% of respondents from the electorate of Servant of the People and 46% of those of Batkivshchyna support such negotiations, while 39% and 38% oppose this move, respectively. Voters of Opposition Platform – Za Zhyttya definitely support direct talks (75%).
Voters of Holos (72%), European Solidarity (71%), Batkivshchyna (59%), and Servant of the People (54%) support the idea of introducing international peacekeeping forces on the territory of "DPR" and "LPR." Some 50% of respondents, who support Opposition Platform – Za Zhyttya are against this proposal.
UNIAN memo. The survey was conducted on June 13-20, 2019, in all regions of Ukraine except for Crimea and the occupied territories in Donetsk and Luhansk regions. A total of 2,017 respondents aged 18 and older were interviewed. The margin of error does not exceed 2.3%.
The survey was carried out with the financial support of the MATRA program of the Embassy of the Kingdom of the Netherlands.