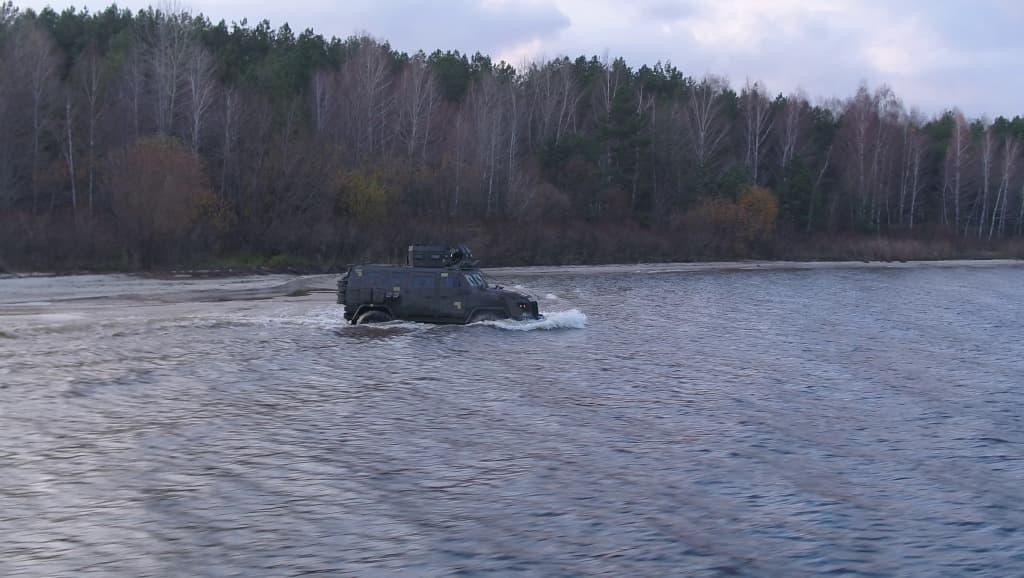 Apostrophe
Ukraine has completed government tests of the brand new Cossack-2M1 armored vehicle, a unique piece designed for the country's Armed Forces, according to Oleh Vysotsky, Chairman of the Board of the League of Defense Enterprises of Ukraine, founder of PJSC NPO Praktika, an enterprise which created the new armored vehicle.
Cossack-2M1 boasts of excellent maneuverability, being able to drive on any terrain, he told Apostrophe.
"It was repeatedly tested on complex routes at the range, where only tanks could pass. It drives smoothly, including through ditches and potholes, at greater speed and with better stability than armored vehicles with a frame structure and solid axles. Dropping the frame in favor of the carrying body allowed for making the armored vehicle more compact in height, which reduces its visibility and the likelihood of an enemy hit," said Vysotsky.
State tests lasted from October 2018 to July 2019 and included over 50 methods, each of them inspecting several parameters.
Read alsoUkraine says new counter-battery radar tests success: media (Video)
"Few armored vehicles are able to complete state tests. For example, in early 2016, the Ministry of Defense conducted comparative tests of 11 armored vehicles made by different manufacturers. But only three of these manufacturers subsequently completed state tests. One of them was Praktika. The tests included crossing a river. To do this, the engine had to be turned off at a 1.2 m depth and then restarted to continue the drive. Trials are conducted in different weather and climatic conditions, on different types of terrain, with a full load and full crew in place. For example, Cossack-2M1 drove more than 15,000 km during tests, of which 5,300 km was in severe off-road mode," said Vysotsky.
He called the completion of tests a "joint success of the country's entire military-industrial complex, as well as the Ministry of Defense and the Armed Forces of Ukraine," since many private and state-owned enterprises took part in creating the vehicle.
According to him, the League of Defense Enterprises was created specifically for the implementation of joint projects, one of which was Cossack-2M1.
Oleg Vysotsky stressed the importance of cooperation with Ukroboronprom, including on the said project.
"The first Memorandum of Cooperation and Partnership between the League and Ukrobornprom was signed in April 2017. We have common tasks and common problems; we solve them together. In the Cossack-2M1 project participants were also the enterprises of the state-owned concern Mayak Plant and Orizon-Navigation.
"All over the world there are no more than 10 manufacturers producing vehicles of this class – in the U.S., Switzerland, and France. By the way, nobody created such a vehicle in the post-Soviet space," said Oleh Vysotsky.