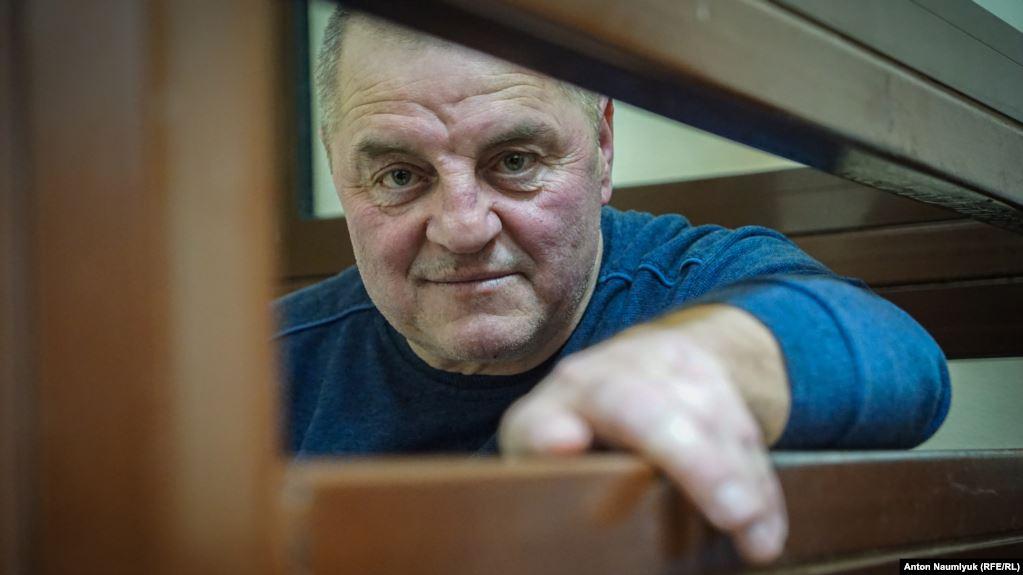 Photo from RFE/RL
Journalist Anton Naumlyuk says the Kremlin-controlled "court" in Simferopol in Russian-occupied Crimea has changed the preventive measure for seriously ill Crimean Tatar activist Edem Bekirov, who was illegally accused of trafficking in explosives and ammunition, under obligation to appear in court.
Bekirov spent 258 days in custody, the journalist wrote on Facebook on August 27.
Read alsoMFA Ukraine calls on Russia to release Bekirov, Kolchenko
As UNIAN reported, on December 12, 2018, Russian security forces detained Bekirov at the de-facto border between mainland Ukraine and Russia-occupied Crimea. He was accused of storing, distributing and transporting more than 10 kg of TNT and 190 rounds of live ammo.
Bekirov has a leg amputated, he has diabetes. He has already suffered a heart attack and undergone heart surgery. The activist's daughter has repeatedly stated that his health has deteriorated.
On June 6, the Kremlin-controlled "court" in Simferopol extended Bekirov's custody term until August 12.
On June 11, the European Court of Human Rights (ECHR) ordered that the Russian-controlled authorities immediately place Bekirov in hospital.
On June 12, the FSB of the Russian Federation completed the investigation into Bekirov's case and filed an indictment. He pleaded not guilty.
On July 10, the ECHR handed down another ruling in the Bekirov case with details to its June 11 ruling, stating that independent and specialized doctors should conduct health checks and eventually prepare separate, detailed conclusions on each of Bekirov's health issues. They must indicate whether the medical care provided to Bekirov is adequate and whether he is fit to be held in remand as a preventive measure.
One of Bekirov's lawyers, Islyam Velilyaev, told Human Rights Watch that he last saw Bekirov in prison on July 30 and that his condition was "consistently critical." For the last 10 days, Bekirov has been in severe pain and practically immobile due to a spinal nerve compression. His ability to move has somewhat improved after his relatives brought him pain medication, Velilyaev said, but his blood sugar remains dangerously high. The lawyer also said that Bekirov's blood sugar has been at a critically high level for some time because "insulin dosages administered to him in detention are incorrect."
Bekirov's other lawyer, Alexey Ladin, told Human Rights Watch that the detention facility authorities took Bekirov to several "medical consultations" that were not effective and cannot replace a medical examination that determines a person's fitness for custody. Velilyaev said: "They are tormenting him, this is torture. We've been talking about his health for six months now, but nothing is being done. It's like we are tilting at windmills."
On July 23, Ladin said that "judge" Alexander Voronoi sent the Bekirov criminal case to Crimea's Krasnoperekopsk District Court, which is 123 kilometers from Simferopol, where the activist is being held in custody.
On July 30, Bekirov wrote a statement of intent to go on hunger strike and refuse to take medications should he be transferred to Krasnoperekopsk.