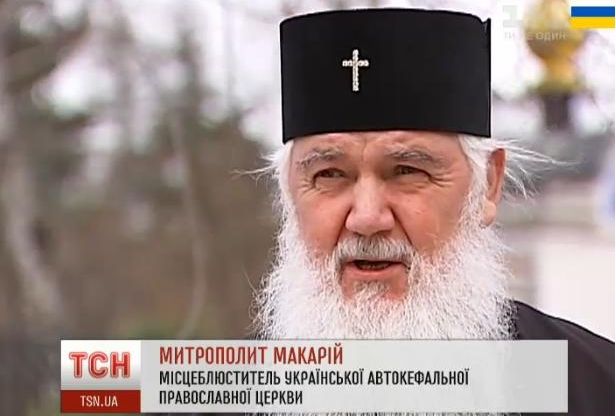 Metropolitan Macarius of UAOC says his church is ready to unite with the Ukrainian Orthodox Church (Kyiv Patriarchate) / Photo from TSN
Two out of the three major Orthodox churches in Ukraine – the Ukrainian Orthodox Church of the Kyivan Patriarchate and the Ukrainian Autocephalous Orthodox Church – may merge. At least, the heads of the two churches are not against it and are ready to begin this process right after Orthodox Easter, according to weekly news program TSN.Tizhden.
Patriarch Bartholomew I of Constantinople, who is the incumbent Archbishop of Constantinople – New Rome and Ecumenical Patriarch, explicitly told Ukrainian bishops not long ago that he believed that the Ukrainian churches might unite in one local church and he was even ready to grant autocephaly status to it.
"I firmly believe that the Ukrainian churches will unite and Ukraine will have a united local church in the near future," Ecumenical Patriarch Bartholomew I said.
"He separately stressed last year that the Ecumenical Patriarchate wouldn't set aside this problem, considering it as the duty and responsibility of the entire Orthodoxy to help eliminate problems in the Ukrainian church," theologian Oleksandr Sagan said.
The Ukrainian Orthodox church is now split into three branches: the Ukrainian Orthodox Church of the Moscow Patriarchate (UOC-MP), the Ukrainian Orthodox Church of the Kyivan Patriarchate (UOC-KP) and the Ukrainian Autocephalous Orthodox Church (UAOC). The two latter are unrecognized by other canonical Orthodox churches.
The UAOC has recently lost its highest ecclesiastical official with the death of Metropolitan Methodius. And now the church is at the crossroads. Acting head of the Ukrainian Autocephalous Orthodox Church Metropolitan Macarius unexpectedly announced prior to Orthodox Easter this year that his church wants to begin the process of unification with UOC-KP.
Speaking in an exclusive interview with TSN.Tizhden he even outlined the timeframe, saying it might happen right after the Orthodox Easter holidays.