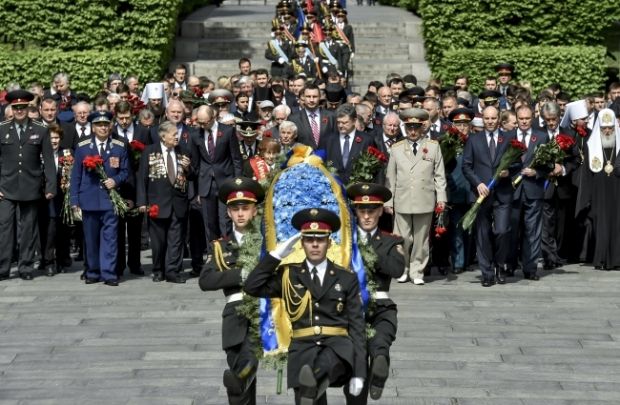 Ukraine is celebrating the 70th anniversary of the victory in WWII on May 9 / Photo from president.gov.ua
Ukrainian President Petro Poroshenko has taken part in the official wreath laying ceremony at the Tomb of the Unknown Soldier at Kyiv's Eternal Glory Park on the occasion of the 70th anniversary of the victory over Nazism in World War II.
As an UNIAN correspondent reported, the ceremony was also attended by Ukrainian Prime Minister Arseniy Yatsenyuk, Deputy Chairman of Ukraine's Verkhovna Rada Andriy Parubiy, Secretary of the National Security and Defense Council Oleksandr Turchynov, Kyiv Mayor Vitali Klitschko, church representatives, war veterans, and the public.
Kyiv also hosted a march of military bands from different countries.
Military musicians from Ukraine, Poland, Estonia, Jordan, the United Kingdom first lined up on Glory Square, and then marched to the Museum of the Great Patriotic War, the correspondent said.
They were followed by a column of Afghan war veterans and other citizens.
As UNIAN learnt from the Kyiv police, they hadn't received any reports about violations of public order in the city by that moment.
A large number of police officers were engaged to maintain law and order on Glory Square.