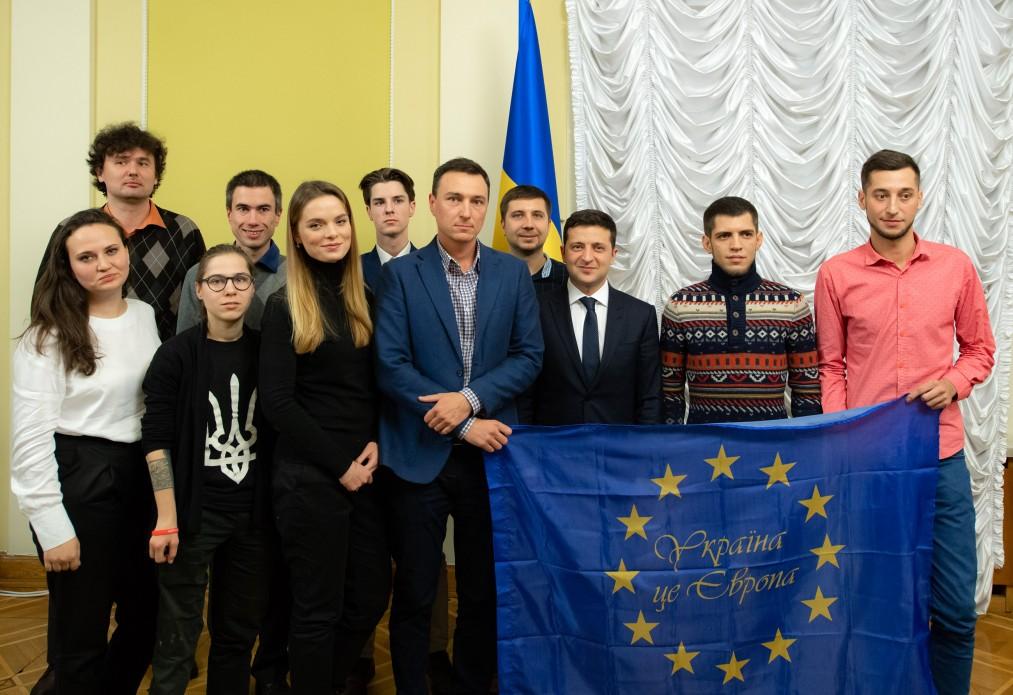 president.gov.ua
Ukrainian President Volodymyr Zelensky has met with former students who were organizers of Euromaidan events and were injured in downtown Kyiv on the night of November 29-30, 2013.
"I was always curious what the people who started it all are doing now. The ones who started the revolution. We wanted to meet in person, we wanted to talk about the existing problems, the vision in general, where you are and what you do," Zelensky said, according to the president's press service.
Read alsoMaidan cases: Ukraine's parliament passes bill on amendments related to SBI
The president thanked the attendees for their response to his invitation and stressed that it was a great honor to meet.
The young people told Zelensky how the Maidan began, about their motives for participating in the protests, which later evolved into the Revolution of Dignity. They discussed how the events of late 2013 – early 2014 changed Ukraine.
In particular, they stressed the need to develop legislation that would give war veterans more opportunities to fulfill themselves on government posts, in other areas of the country's life after service in the war zone.
Special attention was paid to the issue of protection of activists and those defending the rights of people, communities, advocating environmental protection. There was also a proposal to extend the law on amendments to the Law of Ukraine on Prevention of Corruption regarding whistleblowers to protect activists.
An investigation into killings on Kyiv's Maidan Nezalezhnosti (Independence Square) was one of the main topics discussed.
"For you, the Maidan cases are very personal. And believe me, for us, too. I really want us to finish these cases. So that we can fully investigate them, and all those who walk, drive or fly instead of being imprisoned would be imprisoned," the president emphasized.
The participants presented Zelensky a piece of one of the monuments to Lenin, which was overthrown during the Revolution of Dignity.
As UNIAN reported earlier, Ukraine marked the sixth anniversary of the Revolution of Dignity on November 21, 2019. The end of November is when the Orange Revolution started in 2004 and the Revolution of Dignity in 2013.
These events have changed Ukraine's history. One of the most tragic events for Ukrainians was the struggle for justice, which began six years ago with protest rallies on Maidan Nezalezhnosti, or Independence Square, in the center of Kyiv. Later, the rallies grew into the Revolution of Dignity and Freedom. The protest in downtown Kyiv was called Euromaidan, and the most active participants were students. A few days later, a peaceful rally turned into a brutal massacre at night. The Revolution of Dignity and Freedom has become one of the most tragic pages in the history of modern Ukraine and forever changed the country and the nation.