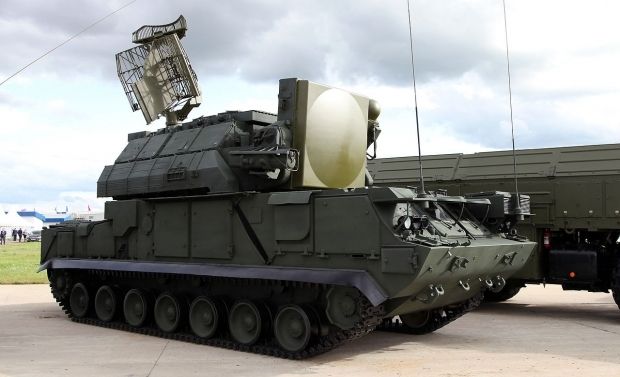 Anti-aircraft missile launcher Tor / vitalykuzmin.net
Ukrainian experts are eyeing a possible Russian-made Tor anti-aircraft missile hit as one of the versions of the flight PS752 crash near Teheran.
The team of experts that has arrived in Iran earlier today will seek to search for missile fragments at the crash site, that's according to Secretary of the National Security and Defense Council (NSDC) of Ukraine, Oleksiy Danilov.
The 45-strong Ukrainian team consists of representatives of 12 ministries and departments, Ukrainian journalist Yuriy Butusov wrote on Facebook.
Read alsoIran releases preliminary accident report on PS752 crash
Experts are studying various versions of what actually caused the crash, including:
- Shooting down by an anti-aircraft missile, including the Tor, after unconfirmed reports emerged in media that fragments of the Russian-made missile were allegedly found near the crash site;
- Collision with a UAV or other flying object;
- Destruction and explosion of the engine for technical reasons;
- Explosion on board the aircraft as a result of a terrorist attack.
"Our commission is currently coordinating with the Iranian authorities the issue of gaining access to the crash site, intending to search for the fragments of the Russian-made Tor anti-aircraft missile according to the data published on the internet. We will use all results of the investigation into the attack on the Boeing MH17 to establish the truth in the case of the crash of the Ukrainian plane in Tehran," Butusov quoted Danilov as saying.
The Ukrainian team includes experts who are taking part in an international probe into the downing by Russian troops of the Malaysian Boeing MH17 in 2014.
Read alsoUIA publishes full passenger list for flight PS752 crashed in Iran
"At the moment, we are conducting effective diplomatic negotiations with the Iranian side and there is every reason to hope for cooperation on all issues, including participation of our commission in decoding of black boxes. The investigation into the deaths of Ukrainian citizens is under personal control of the president of Ukraine. We will immediately inform the Ukrainian public and media on all information that can be released," the NSDC secretary said.
Iranian authorities previously ruled out a missile hit. Local airport authorities alleged engine fire as the cause of the crash. Reuters sources said that, according to Western intelligence, the plane crashed as a result of a technical malfunction. Meanwhile, Ukraine began its own probe into the crash.
As UNIAN reported earlier, Kyiv-bound Ukraine International Airlines flight PS752 crashed shortly after takeoff from Tehran's Imam Khomeini International Airport in the early hours of Wednesday, January 8. It was carrying 167 passengers and nine crew members on board. Two passengers and the crew members were Ukrainians. There were also 82 citizens of Iran, 63 citizens of Canada, 10 citizens of Sweden, four citizens of Afghanistan, three citizens of Germany, and three citizens of the United Kingdom. There were no survivors.