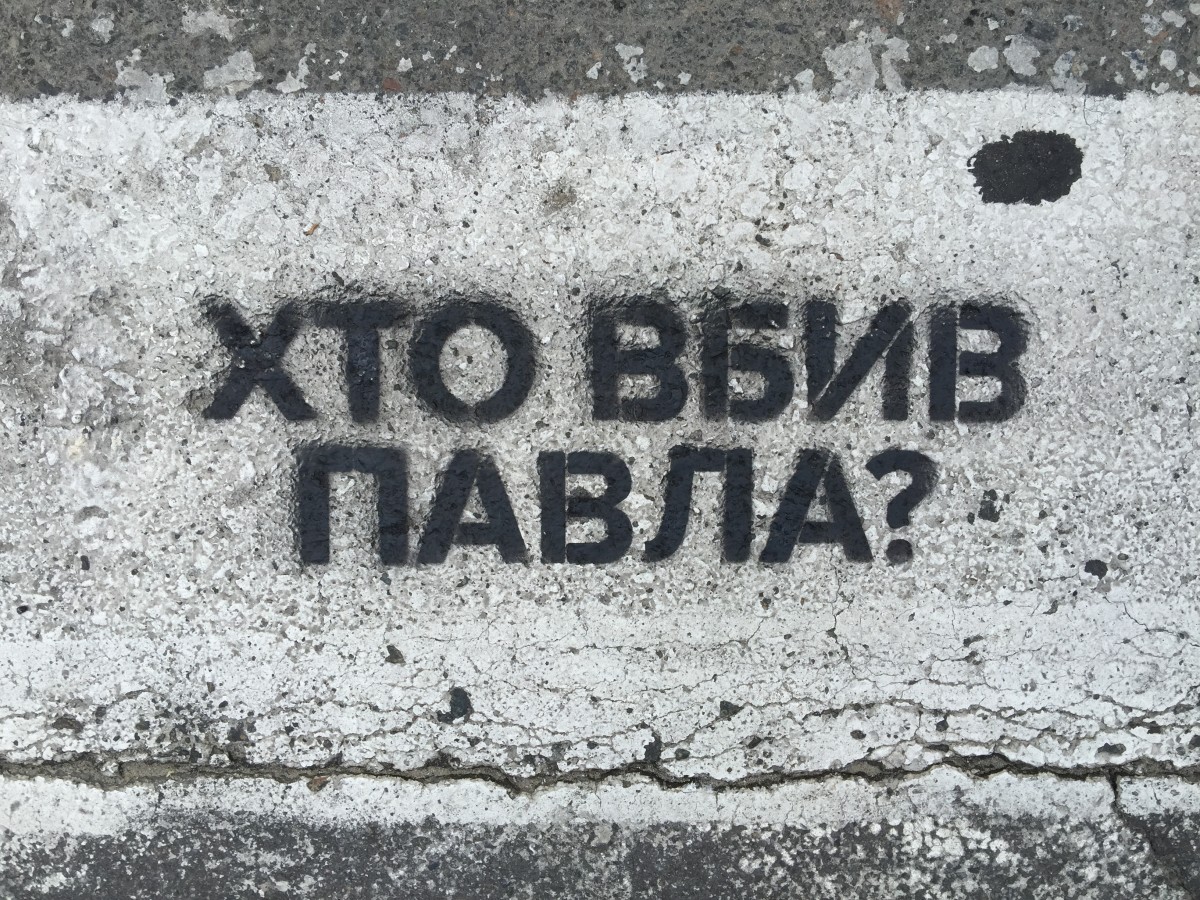 Who killed Pavel, a graffiti says / Photo from UNIAN
Former press secretary of the Dnipro-1 Police Regiment, Vasilisa Mazurchuk, has published her private correspondence with who she alleges is Interior Ministry spokesman Artem Shevchenko, where he calls journalist Pavel Sheremet, who was assassinated in a car blast in Kyiv several years ago, a "Russian agent".
Mazurchuk posted screenshots of their correspondence on Facebook.
Later, as a proof, she showed a screenshot with Shevchenko's personal phone number on her phone.
In their exchange, the two discuss the investigation into Sheremet's murder.
Mazurchuk criticizes the efforts by the Ministry of Internal Affairs.
In particular, the police made public her interceped phone communications between the suspects where Mazurchuk was mentioned.
Shevchenko, in turn, apologizes, but insists that the charges pressed against the suspects are well-founded.
Several statements by Artem Shevchenko from the dumped correspondence are noteworthy.
Read alsoReporters Without Borders concerned over "inconsistencies" in Sheremet murder evidence
He wrote that some "counterintel operatives" allegedly "dragged the guys into doing a dirty job".
Mazurchuk's interlocutor who she claims was Artem Shevchenko is unhappy about the police having to probe the Sheremet case.
"Let Yulia and Andriy [the two main suspects] honestly reveal who told them to take down this Russian agent Sheremet," Mazurchuk's interlocutor wrote.
In a comment to Hromadske, Mazurchuk confirmed that this was her personal correspondence with Artem Shevchenko.
She added she was sure she was communicating with the Interior Ministry spokesperson.
Shevchenko has not confirmed to journalists the authenticity of the correspondence.
"This is some kind of a slide with some letters on it – I don't know what that snap is about," Shevchenko said, adding that a lot of unreliable information is being posted on the internet.
Also, he invited reporters to submit an official inquiry.