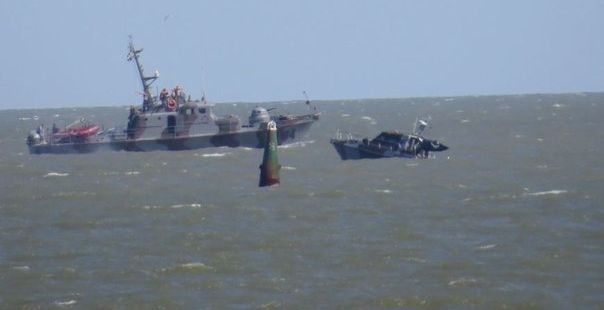 A coast guard motor boat exploded at sea near Mariupol on Sunday / Photo from 0629.com.ua
"The police have been informed that one of the six injured [in the blast] who were taken to hospital has died. It has been established that the dead individual was not a serviceman. This was a 45-year-old resident of Mariupol," the police said.
As UNIAN reported earlier, a UMC-1000 motor boat exploded on Sunday afternoon while leaving the berth of the Mariupol Maritime Border Guard detachment at the Sea of Azov. This was a patrol vessel on duty at sea near Mariupol's Prymorsky district.
The cause of the blast has not yet been determined, however, one of the theories is that the patrol boat hit an explosive devise near the coastline of Mariupol.
The State Border Service of Ukraine said that there had been seven crewmen aboard the vessel. Six of them were taken to hospital in Mariupol.
An operation for the search of the seventh crewman is under way.