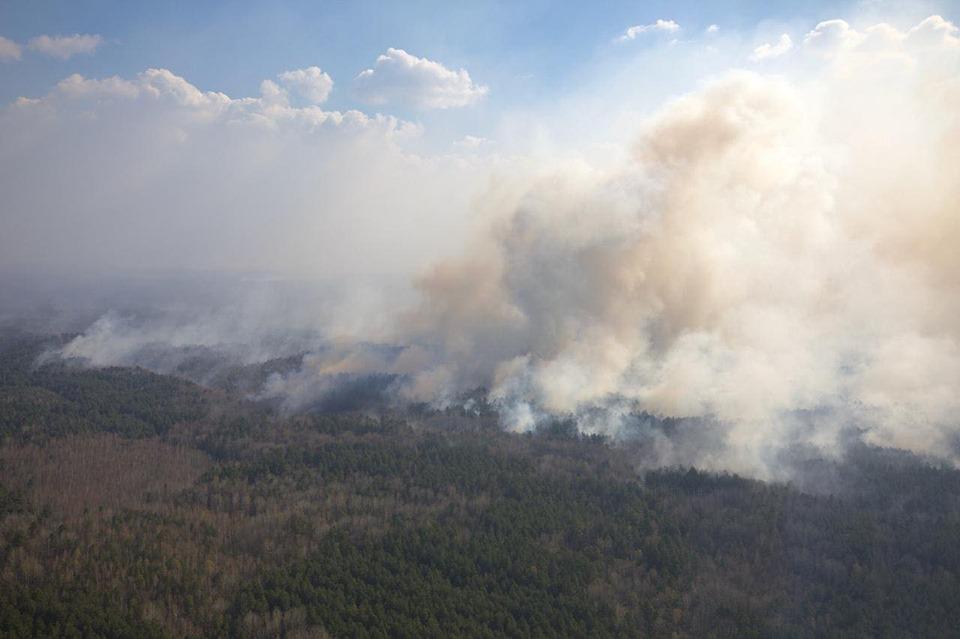 Photo from Ukraine's Interior Ministry
Ukraine's Interior Minister Avakov has said law enforcers are considering two versions of wildfire occurrence in Ukraine's Zhytomyr region.
"First, fires broke out as a result of a strong dry wind, which damaged overhead power lines. However, there are some facts that give us reason to believe that there was a deliberate arson. That is why an expert group from the Ministry of Internal Affairs headed by my adviser Vladyslav Bukhariev is working in Zhytomyr region today. An investigation is under way," he said at a meeting of the operational headquarters in the city of Ovruch, Zhytomyr Region, as reported by the ministry's press service on April 19.
Read alsoChornobyl wildfires: combustion products from exclusion zone could not pollute Kyiv air – Kulbida
The official added that the human factor could not be ruled out as well.
"…when young people have fun in strange ways and in dry weather (there's been almost no snow this winter) they intentionally set fire to grass. Over the past three days, we have detained several persons who were setting fire to grass and garbage at the edge of the forest," he said.
Avakov also noted that the elimination of fires in the Chornobyl exclusion zone is still ongoing. Now all the causes of fires are being established. So far, rescuers and police are considering snowless winter and dry forest litter as the main course of the wildfires.
"Fire-fighting operations are still under way in the Chornobyl [zone], but the situation is under full control. In addition, we will draw conclusions from this situation. Rules of activities in protected areas, including in the exclusion zone, will be changed," Avakov summed up.
National Security and Defense Council Secretary Oleksiy Danilov, Head of Ukrainian President's Office Andriy Yermak, Chairman of the State Emergency Service Mykola Chechotkin, as well as representatives of Zhytomyr Regional State Administration and the State Forest Agency also attended the meeting.
As UNIAN reported earlier, wildfires in Zhytomyr region and the Chornobyl exclusion zone broke out on April 4.
As of Sunday, April 19, rescuers and foresters have been putting out nine fires in Zhytomyr region and four fires in the Chornobyl exclusion zone.
In Zhytomyr region, wildfires were spreading to settlements. As a result, dozens of residential buildings have been burned down.
Advisor to Ukrainian Interior Minister Zorian Shkiriak does not exclude the situation with wildfires in the Chornobyl exclusion zone and Zhytomyr region could be the result of a planned sabotage.