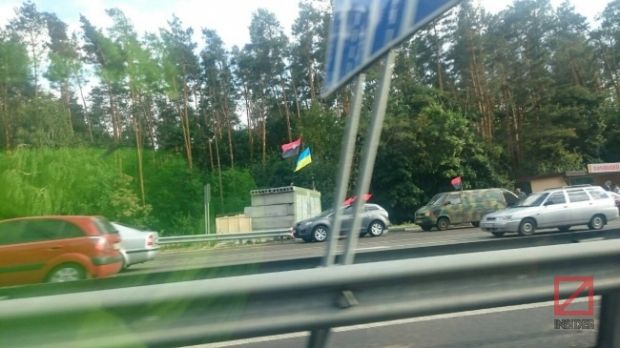 A checkpoint being set up on Kyiv-Zhytomyr highway / Photo from theinsider.ua
"The roadblock was set up at the 5th km of the Kyiv-Zhytomyr highway the day before and there has been a shift change at this roadblock recently. About 20 people are currently on duty, each being fully equipped: bullet-proof vests, helmets and a pair of binoculars. I personally saw Molotov cocktails prepared – 'just in case,' as the fighters said. They also have weapons, the quantity and type of weapons is not disclosed," the correspondent said.
In addition, one of the "senior fighters" at the roadblock announced that the organization had a specific plan of actions.
"One of the tasks, according to this plan, is to narrow the Zhytomyr highway with the three lanes to only one and to inspect every truck and van on suspicion of ammunition transportation," according to the correspondent.
It is reported that the Right Sector fighters intended to block traffic on the highway when reinforcements for the police or the National Guard are to be moving "from Kyiv in the direction of Zhytomyr and Mukacheve."
"It has also been found out that currently there are mobile checkpoints being set up each 300-500 meters in both directions from the location to report the soldiers about suspicious vehicles," the correspondent said.
The Right Sector fighters are said to have retractable "hedgehog" capable of blocking the road in a few seconds.
According to the report, the roadblocks were established at all exits from the capital, but no incidents have been reported yet.
As UNIAN reported earlier, the shoot-out occurred in the town of Mukacheve in Zakarpattia on July 11 during a conflict between the Right Sector organization and the people close to Ukrainian MP Mykhailo Lanyo.
Prosecutor General of Ukraine Viktor Shokin created a combined investigation group from of PGO, SBU, and Interior Ministry officials to investigate the incident.
Criminal proceedings were opened under Part 1 of Article 255 of the Criminal Code of Ukraine (creating a criminal organization) and Part 3 of Article 258 (a terrorist act).