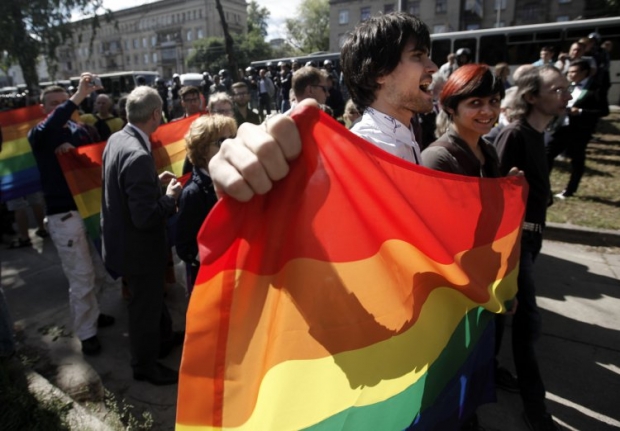 Photo from UNIAN
"This could lead to riots. Even if no one comes there to prevent the event from being held, there are still many war veterans, ultras and ordinary citizens in the city who will not turn a blind eye on this," Serhiy Sternenko, leader of the Right Sector's Odesa unit wrote on Facebook.
According to Sternenko, the organizer of the "LGBT Festival in Odesa is some low-profile organization, registered in Switzerland".
He emphasizes that for some reason, the organizers chose the dates for holding an event exactly when the city will host the fans of four football teams –Chornomorets (Odesa), Zorya (Luhansk), Shakhtar (Donetsk) and Dnipro (Dnepropetrovsk).
The Right Sector representative suggests that the LGBT parade is designed to provoke riots, which will be then be covered by the Russian media in order to discredit Ukraine and dramatically reduce the flow of tourists to the seaside resort of Odesa.
"Will the Right Sector [members] attack LGBT participants? They won't. We are not willing to give our internal and external enemies any trump cards, so there will be no provocations involving fighting. But neither will the LGBT march be held," wrote Sternenko.
According to organizers, the festival will be held for the first time in Odessa from August 14 to August 16.
A workshop will be organized during a festival, dedicated to art as a tool for communication with the public; the city tour in a form of quest; discussion platforms: "Gay tourism as part of Odesa's regional branding " and "Gay characters in mass culture".
In addition, there will be a public advocacy campaign (March for Equality) on August 15, the opening of the LGBT short film festival, photo exhibition, etc.
The press service of Chornomorets FC has told UNIAN that a Zorya (Lugansk) – Chernomorets (Odesa) football match is scheduled for August 16.
As UNIAN reported earlier, on June 6, the March of Equality was held in Kiyv. Despite security measures, the opponents of the event attacked the participants by throwing firecrackers and smoke bombs at them. During the clash, law enforcement officers arrested 30 people. Firecrackers, screwdrivers, knives and other dangerous items have been seized. 11 police officers were injured. Criminal proceedings are underway against seven detained suspects under part 4 of the Article 296 of the Criminal Code (hooliganism).